The Kessler Campanile was filled with students and candlelight on Thursday, March 15, for the eighteenth annual Take Back the Night event.
A component of Women's Awareness Month, the vigil was in honor of survivors of sexual assault and aimed to educate campus about issues related to sexual violence.  The planning committee was chaired by Julie Champion, fifth-year BME major.
[media-credit name="Sho Kitamura / Student Publications" align="alignleft" width="150″]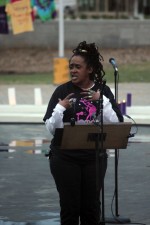 [/media-credit]"I decided to chair the event because my mother is a survivor of sexual assault and I am a survivor of intimate partner violence," Champion said.
Champion views the event as way to safely tell stories survivors might typically be uncomfortable recounting.
"The best way to raise awareness about any gender-based violence is to talk about it, because it creates a safe space for other survivors to feel comfortable to tell their stories," she said.
Champion's mother, K.T., delivered a speech recounting her experience being assaulted thirty years ago, moving many audience members to tears.  Her speech was a new addition to the program and was met with a standing ovation.
Also new to the program this year was a male ally, John Noojin, who spoke in order to engage men on campus to participate in sexual  and domestic violence awareness and prevention.  He argued that simple risk reduction practices are not enough, but that bystander intervention and education are essential tools in the effort to eliminate sexual violence.
"I thought Take Back the Night was a great event," said Nick Gober, second-year CHEM major. "I really learned a lot about the issue of sexual assault and how I, as a guy, can help prevent it. I really enjoyed it."
Student speakers recounted their experiences with violence and their messages of triumph in hopes to inform and inspire.
"When I spoke at Take Back the Night, I was nervous because I had never shared my story with such a large crowd," said Christianna Madson, third-year ALIS major. "In fact, many of my best friends hadn't heard it. But my feeling is, if telling my story can help even one person who has been abused to speak out too, then it's necessary."
In addition to the speakers, the event featured representatives from the Counseling Center, officers from the GT Police Department, and slam poet Theresa Davis.
Davis visited the event and performed two of her slam poems, which dramatized her past experiences with domestic and sexual violence.
Her accomplishments include being the Women of the World Poetry Slam Champion and Atlanta Art Amok Slam Team Grand Champion last year.