As the emphasis on green technology has continued to increase over the past few years, Tech has become home to more LEED  (Leadership in Energy and Environmental Design) certified buildings. LEED is a certification that can be awarded to buildings that meet certain requirements established by the U.S. Green Building Council (USGBC). This certification verifies that a building was designed and built using environmentally friendly strategies.
Tech has increased efforts to receive LEED certification in recent years and now has a total of seven LEED-certified campus buildings spanning classrooms, offices, athletics and residential buildings, with "six or eight projects in the works" according to Howard Wertheimer, Tech's director of Capital Planning and Space Management.
[media-credit name="Sho Kitamura / Student Publications" align="alignleft" width="240″]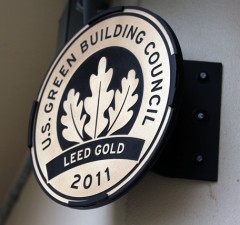 [/media-credit]LEED certification comes at specific levels, Platinum and Gold being the two highest. Current policy states Tech's new construction and renovations will also be designed and constructed to be LEED Gold certified or higher, as of 2009.
However, this lofty award comes at a price. As a state institution, Tech does not receive a tax break or other financial assistance for these projects, and up-front costs for the technology needed to qualify as any kind of LEED certified building, especially Gold or Platinum, can be high. "The cost is in the plaque recognition", Wertheimer said.
Buildings constructed and renovated to meet LEED standards often help to pay for themselves, as they help to reduce energy consumption and reduce the cost of utility bills. According to Tech's Office of Environmental Stewardship, the sustainable technologies in place result in an 11 percent reduction in energy consumption, resulting in $7 million in savings.
Motivation for this certification is fairly obvious. "As a university, we own and operate these buildings forever…so the initial up-front cost is pretty insignificant in the grand scheme of things," Wertheimer said. "Most of the time, our return on our investments is in less than seven years."
"We can take those savings…and reinvest them," Wertheimer said, "[having technologies like] lights that go off when people leave rooms… and continuing to add controls to make things for automated… further reduce our carbon footprint and energy consumption."
"The focus is on doing the right thing… designing everything in the most sustainable and appropriately economical way that we can," Wertheimer said.
With emphasis on green and sustainable design only increasing in society, Wertheimer is aware of the impact LEED-certified facilities could have on students making their college decisions.
"[LEED certification] is something potential student's would look at when considering Tech," he said.
Tech's five million square feet of sustainable buildings have already received significant media attention with regards to its work towards environmentally friendly and efficient facilities. The Princeton Review named Tech as one of the "Greenest Colleges in the U.S.," placing it and 17 other schools on its 2010 Green Rating Honor Roll for maintaining the most sustainable practices, policies and course offerings among all campuses rated for their environmental friendliness. Tech also received recognition on Forbes.com on their list of "America's Greenest Colleges in Universities" in 2010.
The Clough Undergraduate Learning Commons (CULC), one of the several projects in the process of receiving certification,  is aiming for LEED Platinum standing. If accomplished it will make the CULC the largest LEED Platinum university building in the country. Tech has worked to make the CULC more sustainable, equipping it with solar panels and an underground cistern. This prevents it from having to use potable city water, which, according to Wertheimer, "saves 6500 gallons of water per day."
"It's not just about LEED. I think that it is a very good benchmark…but at the end of the day it's about doing the right thing and being good stewards of our environment," Wertheimer said.