[media-credit name="Jon Drews / Student Publications" align="aligncenter" width="741″]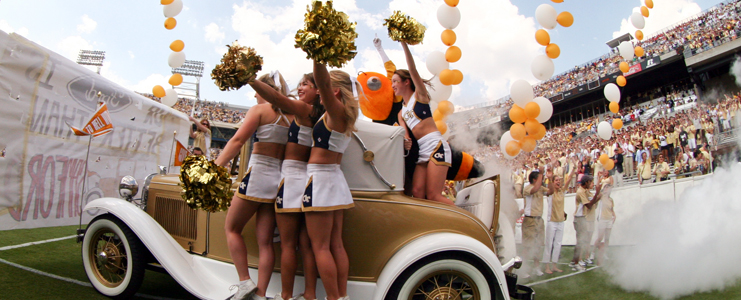 [/media-credit]
Next year's freshman class will get the chance to receive a crash course in Tech's traditions due to a new initiative from Tech's Office of New Student and Sophomore Programs. Called Wreck Camp, it is designed to help incoming Tech students grasp the full scope of the Institute's traditions and to supplement the quick rundown of campus customs that FASET orientation introduces.
The program will be conducted over three days and two nights during the summer, giving students the chance to connect with each other and upperclassmen in a summer camp-style setting before fall semester begins.
"Incoming students will learn more about Tech, its traditions, and themselves, while also getting to know a group of their peers as well," said Jordan Holliday, who will be coordinating the program. "Parts of the program also focus on getting oriented to their new campus, leadership development and diversity. However, overall, this camp is about getting students ready to come to campus and creating that Georgia Tech community."
Tech students usually learn about traditions like fight songs and mascots through events like homecoming and football games. Holliday thinks that this three-day boot camp will give participants a more thorough education.
"Tech has a great story to tell with its variety of traditions and the history that the Institute holds. Sometimes, however, we just do not have enough time to tell that story to the fullness that we would like. Thus, Wreck Camp will provide us an opportunity to tell incoming students more about their school, build some lasting relationship with fellow incoming students and upperclassmen student leaders and just have some good old-fashioned fun," Holliday said.
Coordinators hope that Wreck Camp will teach participants more than how to shave one's hair before the UGA game. The program's activities will emphasize leadership skills and diversity, and coordinators will work to ensure success of incoming students.
"Extended-orientation programs have been proven to make students more successful in their college careers," Holliday said of the academic importance of Wreck Camp, "Since these programs are focused on creating connections, students come to campus ready to hit the ground running and delve into their college experience."
New Student and Sophomore Programs aims to mold Wreck Camp into a recognizable Tech tradition in and of itself.
"We hope that Wreck Camp will not only help incoming students learn about Tech, its history, and its traditions, but that Wreck Camp itself will become its own tradition and experience that many students go through before coming to Tech," Holliday said.
Wreck Camp is designed to serve as an addition to FASET orientation, where students learn about the layout of Tech's campus and are assisted in registering for the first time. Although both are part of New Student and Sophomore Programs, they will be run separately.
"The two programs are working with the same student populations, so there will be some collaboration between the two groups. Wreck camp is not looking to replace FASET, but it is a supplemental program to FASET," Holliday said about Wreck Camp's interaction with FASET.
Two different executive boards, Wreck Camp Directors and the FASET Cabinet, will run Wreck Camp and FASET, respectively.  New Student and Sophomore Programs plans to launch the first Wreck Camp this summer, with the newly-selected camp directors planning and initiating Tech's newest traditions-orientation program.