Synthesized notes hummed out of the speakers, triggered by light. Static crackled from eight old televisions strapped together. A man stood in front of the impressed judges, creating music using only the movements of his body.
[media-credit name="Sho Kitamura / Student Publications" align="alignleft" width="150″]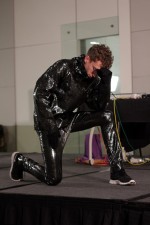 [/media-credit]That was the scene at the 2012 Margaret A. Guthman Musical Instrument Competition, hosted by the College of Architecture on Feb. 17. Marco Donnarumma of the U.K. took first place and $5,000 in prize money with his wearable instrument project.
The Guthman competition challenges artists, engineers, and musicians to create new musical instruments, with particular emphasis on the role of technology in the music industry.
After ten years as a jazz and classical piano competition, the competition was encouraged by the growth of Tech's music technology to change its focus to incorporate an engineering aspect in the competition. This year, the competition awarded a total of $10,000 in cash prizes to a selection of the most novel musical instruments. Tech alumnus Richard Guthman presented the awards in honor of his musician wife, Margaret, who hoped that the competition would help the Institute.
"We want this competition to further the [music technology] program at Tech," she said.
The Institute made her an honorary alumna to further thank her for all her work with this competition, this year and in years past.
"Every year has gotten better and better, and I suspect that there is no limit to where this will go," said Mr. Guthman during the award ceremony on Friday night.
Instruments were judged on musicality, design and engineering by expert judges Atau Tanaka, a media artist and researcher, and Cyril Lance, the chief engineer at electronic musical instrument manufacturer Moog Music.
With each of the final projects showing similar amounts of focus and incredible skill, judges faced serious challenges when determining the winners of the competition.
"We wanted a project that would cause us to think about sounds in new ways…to generate sounds from places we might not have thought of before," Tanaka said.
This year's competition had 52 applicants, representing 15 countries. Twenty-four contestants were each given 20 minutes to perform and explain their instruments.  From those performances, eight finalists were chosen to perform again before deciding on the first, second, and third place winners.
Kyle Evans won second place with his project Cracked Ray Tube, and the third place award went to Bojan Gagic and his project LIGHTTUNE.G.
[media-credit name="Sho Kitamura / Student Publications" align="alignleft" width="150″]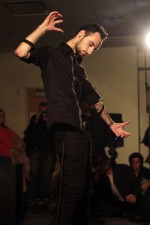 [/media-credit]The first place winner, Donnarumma, won with his work titled Xth Sense. This instrument uses sensors placed on the arms and legs. These sensors captured the energy created from bodily movement and transform it into sound, resulting in a sound very similar to dub-step style music.
Donnarumma's process to his unique sound began with experience playing the bass guitar.
"I worked for three or four years with the bass guitar," Marco said. "I was trying to avoid any contact with the computer."
Eventually, he says, he felt constrained by the bass guitar and began to look for "more theatrical ways of performing." This search led him to research into biofeedback systems, which are usually used to communicate information like brain waves and heart rate, and the way those technologies can create different sounds.
Donnarumma plans to stay with his winning design.
"At the moment, I really want to keep on with this…I find it quite inspiring for myself," Donnarumma said.
Guthman was excited by the size of the competition's audience and is encouraged by the level of support he has seen.
"It is really gratifying to see so many people interested in this kind of activity," Mr. Guthman said.
The competition is now recognized internationally and attracting more and more attention every year. For Mrs. Guthman, her biggest hope is that this growth and progress will continue in future years.
"We don't know where it's going, but it's going," she said.