Georgia Gov. Nathan Deal stood outside Clough Commons on Tuesday as he announced the state's newest need-based scholarship.
Called REACH (Realizing Education Achievement Can Happen), the scholarship is designed as a need based scholarship program. REACH will provide another form of financial assistance to students who might otherwise not have the opportunity to attend college.
[media-credit name="Josh Sandler / Student Publications" align="alignleft" width="317″]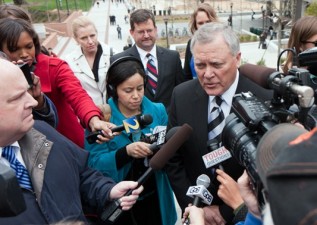 [/media-credit]"The REACH Scholarship continues our state's ongoing commitment to providing access to higher education for all Georgians, regardless of their income," Deal said.
REACH scholars will be selected in middle school and will sign a contract agreeing to maintain a certain GPA, to remain crime- and drug-free, and to meet with a mentor until they graduate from high school. Students who qualify and meet requirements will receive a renewable yearly scholarship of $2500 to be used at any HOPE-eligible institution.
"We want to reach as many students as possible, but we also want to make sure we a have a solid program," said Jackie Coleman, the program manager.
Coleman added that while REACH is initially starting with only 25 scholars in only three counties, it is aiming to eventually be a statewide program.
"We believe that this type of comprehensive support can have a lasting positive impact on the students involved, and we are looking forward… to working with more students next year and years to come," Coleman said.
Payouts will be limited based on how much money the program raises, however.
"Scholarships will not be given out…unless there's funding," Coleman said.
Tech has committed to match the REACH scholarship amount for any REACH scholar who is accepted and enrolls at Tech.
"I think it provides an opportunity for yet one more group of students to have access to Tech," said Institute President G.P. "Bud" Peterson. "I think one of the things I find most impressive is that it's aimed towards middle-schoolers…and helps them realize that college is something they can aspire to."
Deal lauded Tech's efforts in helping support the REACH initiative .
"I want to thank my friend, Dr. Bud Peterson, and the Georgia Tech foundation…for embracing this opportunity to open door to those who are less fortunate. This institution has a long standing commitment to need based scholarships," Deal said.
REACH is the latest financial aid program to be offered at Tech, joining the HOPE Scholarship, the Pell Grant and the Tech Promise Scholarship Program, which allows low-income students to graduate from college without any debt.
"When you combine all the scholarship programs, plus REACH, you can start to see the many ways that students identify how they can get into college," Peterson said.
REACH is designed to cover the gap between these programs and the cost of attendance. However, the first students to benefit from REACH will not enter colleges for another six years and tuition is widely expected to grow in the meantime.
"Tech is working hard to manage tuition," Peterson said. State appropriations have continued to go down, he said, and tuition often has to make up the difference as a result.
"But Georgia Tech is still a great value," Peterson said.
Unlike the HOPE scholarship and Pell Grant programs, REACH will be privately funded. AT&T has signed on as the initial donor, contributing $250,000 to the program.
"An educated workforce for the future is not only critical to the success of this nation, but also to our company. We need these students to power the economy of today, as well as the economy of tomorrow," said Judy Agerton, Vice President of Community Affairs for AT&T.