[media-credit name="Sho Kitamura / Student Publications" align="aligncenter" width="741″]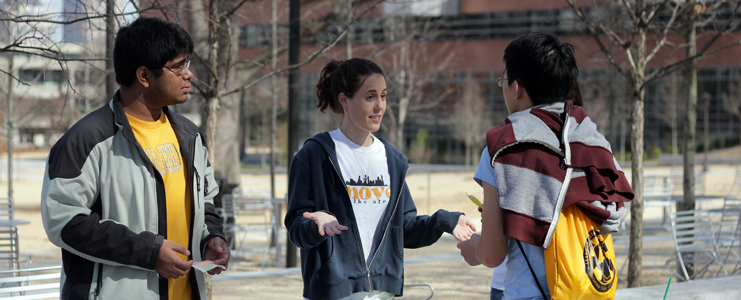 [/media-credit]
The Community Service Council (CSC) celebrated its return to campus on Tuesday with a showcase of the past and present service at Tech. Student organizations devoted to community service set up exhibits along Tech Walkway. The CSC is dedicated to increasing student involvement with community service and promoting cooperation between existing service organizations.
"Everyone who attended stated that they enjoyed learning more about service and the many opportunities available to them," said Emma Bones, Executive Chair of the CSC. "It was a wonderful celebration of service and an incredibly fun way to spend a day supporting service at Tech."
Students walking down Tech Walkway found themselves immersed in a series of exhibits documenting the history of service at Tech. In addition, current student service organizations allowed passersby to participate in "mini-service projects" that represented the service opportunities available to the Tech community.
The CSC aims to perform several functions, including raising awareness among Tech students about the service opportunities available to them, helping individuals find programs that match their needs and interests, supporting existing service organizations so that they can more successfully launch new initiatives, and encouraging the administration to promote service.
In particular, Bones hopes that the council will make it easier for students to find out about service opportunities. She said that one of the reasons students do not participate in service is due to a lack of awareness.
"The CSC works to ensure that service will always be available and easy to access for any Tech student that wishes to partake in an event," Bones said.
Although the CSC was originally founded in 2007, it has been inactive in recent years. Bones said the poor support that service initiatives received during her first year at Tech inspired her to revive the CSC.
"It was frustrating to not be able to serve because I lacked transportation, funding, or other obstacles," Bones said. "I believe that Tech should support its service endeavors in any way possible, and the CSC exists to ensure that service at Tech is supported in the manner it deserves."
Tech's Office of Community Service, which supports the CSC, also seeks to encourage service among Tech students by promoting awareness and providing resources for service organizations. Its website features a calendar of upcoming service events.
Bones hopes that the CSC will be able to help students communicate with the Office of Community Service and the administration at large in order to encourage further support of service.