[media-credit name="Photo by Sho Kitamura" align="aligncenter" width="741″]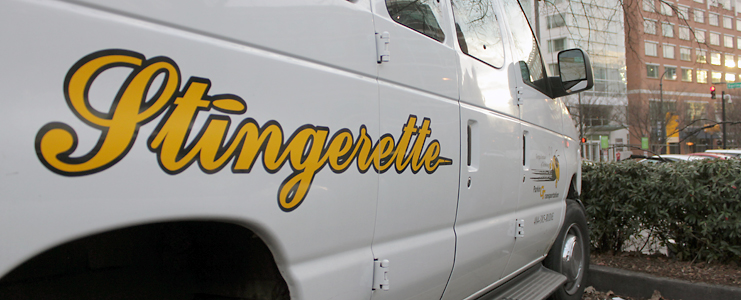 [/media-credit]To increase the overall efficiency of their transportation systems, Parking and Transportation has introduced various changes to the Stingerette system.
"One of the problems Stingerette drivers encounter is finding a student who has requested a ride," wrote Emily Gooding, SGA Parking and Transportation Committee Chair, in an email. "Although the student might identify a street corner, they could be inside a building, waiting on the sidewalk, etc."
This has caused great delays to other students waiting for Stingerette rides.
"I remember a few weeks ago, when I was riding the Stingerette, and I had to wait in the car for like five minutes for some guy who was inside the recreation center," said Luke Bufardi, a first-year CHBE major. "I thought to myself, 'Why bother taking the Stingerette in the first place?'"
However, Parking and Transportation has been able to come up with what may be a long-term solution.
"We recently pulled together a focus group to identify the best 'pick-up-points' for various locations on campus," Gooding wrote. "Now, when a student requests a ride, they will receive a message with specific instructions on where the Stingerette will pick them up."
The focus groups also sought to increase the safety of students who rode the Stingerette late at night.
"All of these areas were determined to be the safest, best-lit locations, and many are areas inside buildings where students can see the street," Gooding wrote.
In addition, students need not wait very long for the implementation of these improvements.
"They will be implemented as soon as possible," Gooding wrote. "The location of the correct pick up point will be sent to the student as soon as they request a Stingerette ride, so it's just a matter of changing the programming to reflect this."
The changes may take some getting used to, however.
"It's a mini-culture change. I'm sure it'll have its rough points," said Eran Mordel, SGA Vice President of Campus Affairs. "I think at the end of the day it'll be helpful on the both efficiency side and the safety side."