Clough Commons, which opened its doors to students in last August, is entering its second semester of service to the student body. In that time, students have come to use it for studying, holding meetings and taking classes.
"The first semester of the building has been as successful as we could have hoped given the large size, heavy usage, and multipurpose nature of the Commons," said Ameet Doshi, director of User Engagement for the Library, the organization that runs the Clough Commons.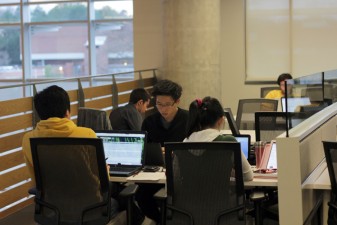 According to Doshi, over 12,000 people visit the Clough Commons each weekday. The Library estimates that over one million visitors have passed through the building since its opening.
"What's impressive is that, for the first time, we're seeing academic activity on Fridays, right here in the center of campus since the library closes at 6 p.m. and Clough is open 24 hours," Doshi said.
Many students use the Clough Commons' 2,100 "common" study seats. Those seats are spread out between group study rooms, individual desks and open group study areas.
"I really like how [Clough Commons]was built for the students based on how conducive it is to group study," said Lauren Levinson, a second-year BIO major.
"My favorite part of the CULC is the section of the third floor with the whiteboard tables," said Ava Bilimoria, a second-year ME major. "They're really cool."
Doshi indicated that the Clough Commons has created a more diverse academic experience. By hosting a variety of disciplines in its classrooms, Clough has allowed students of different majors to mingle.
"Informally, I've seen some of these interactions, and it's starting to create this community of undergraduates at Tech," Doshi said.
Despite the advantages, the $93 million building does not come without a few annoyances.
"Sometimes when I'm deeply engrossed in my work, the environment of the CULC will suddenly become much more boisterous," said Luke Buffardi, a first-year CHBE major. "Although I love the aesthetics, sometimes the functionality gets compromised by the incredible versatility of the building."
Beyond noise complaints, some students feel that the building does not have enough study space for their individual work styles.
"I dislike how there are not enough places for individual work," Levinson said.
Doshi said these concerns have not gone unnoticed.
"Based on library space utilization data and anecdotal observation during the fall semester, we recognize there is a desire for additional quiet space in the Clough Commons [and] Library complex," Doshi said.
The Library plans to use resources within the Library itself to address these concerns.
"The upper floors of the Library (such as 3rd floor West) presently offer such [quiet] spaces," Doshi said.
"We are in the process of developing a long-term plan to create additional quiet study space within the Library facility to anticipate current and future student needs," Doshi said.
Yet, this isn't the only improvement that the Library is planning for the Clough Commons.
"The designer of the [Clough Commons] has come and has identified areas where more furniture seems necessary," Doshi said, in response to the concerns for additional space. "That [additional space] is going to happen."
"With any new building, there will be issues that need to be continually improved upon, but, given the enormity of the task, the Clough Commons has been quite successful," Doshi said. "This is due to the constant efforts of hundreds of students, staff and faculty, who have made it their mission that the Clough Commons be a visible success for Tech."