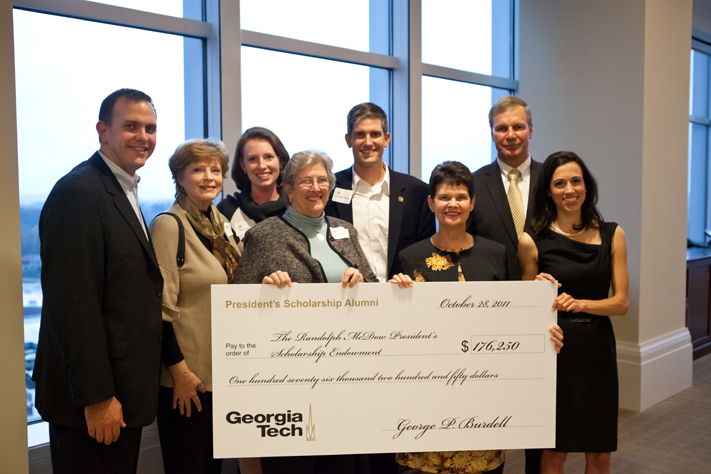 Tech alumni, recent graduates and Institute officials gathered at an Atlantic Station law firm last Friday to present the former director of the President's Scholarship Program (PSP), Randy McDow, with an endowment in his name.
Friends and former students of McDow gathered at the Nelson, Mullins, Riley & Scarborough law firm to surprise McDow, who was kept in the dark about the endowment until the presentation.
"[McDow] is responsible for so much of what the PSP is today,  and we thought it would be wonderful if we could have a lasting legacy that is a true testament to his influence on the program and its participants," said Suzannah Gill, endowment organizer.
Over 140 people contributed $176,250 to create the Randolph McDow President's Scholarship, which will be used for scholarships for future students at Tech.
"I'm moved that so many young people are willing to donate to such a worthy cause," said Philip D. Spessard, Associate Vice President for Development. "I've never seen something like this come together so quickly."
Created originally to fill the need for a merit-based scholarship at Tech, the PSP was begun in 1980 by Dr. E. Jo Baker, who was seated in the Office of Associate Vice President.
Approximately 1362 students had graduated from Tech under the PSP as of spring 2010, with 86 percent earning Honors or higher, and with over 90 percent finishing in five or fewer years.
"Participants in the PSP elevate the entire Institute with their efforts, and [the endowment] represents a great effort to honor his legacy at Tech," said Institute President G.P. "Bud" Peterson.
McDow stepped down as Director of the PSP this May to become the Executive Director of the Stamps Family Charitable Foundation.
"I'm overwhelmed and so touched by the generous funding and am glad that there is something to honor the many years that the program invested in me, as well as the years that I invested in many of you," McDow said.