Last Saturday, Oct. 1, students received the first in a series of Clery Safety Acts reporting various cases of assault and battery against female students around campus. Three separate attacks on female students were reported in the space of four days, and GTPD is taking increased measures to bolster security on campus.
"The safety of our students and campus community remain our top priority and we are thankful that only minor injuries were reported. The GTPD continues to investigate these incidents and to remind students to be vigilant and keep aware of their surroundings," said Tech spokesperson Matt Nagel.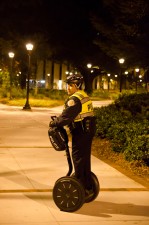 The first incident, officially named an assault with attempted sexual misconduct, was reported to have happened on Oct. 1 at 12:15 a.m. A female student reported that she was approached from behind by an unknown male while
walking near the Wesley Foundation at the corner of Fourth Street and Fowler Street. The male pushed her up against a wall and undid the student's pants. The student screamed, causing the male to flee on foot towards Tech Square. The female reportedly received minor injuries.
On the same day at 8:15 p.m., another female student reported that an unknown male approached her from behind and grabbed her thigh in a bear hug while she was walking along Tech
Students received another Clery Safety Act on Oct. 4 about an incident that happened at approximately 12:50 a.m. A female student reported that as she was walking along McMillan Street, near Turner Place, when an unknown male approached her from behind and grabbed her around the waist. The female struck the male and ran, according to the release. The male fled on foot from McMillan Street towards Eighth Street. The student reportedly had no injuries.Walkway, near the Clough Commons. The female was able to pull away from the male when she screamed. The male reportedly fled on foot towards the outdoor seating area of Einstein's Bros. Bagels located at the Student Center Commons.
"For the first time in my three years at Tech, I was honestly afraid of making the short walk from the Flag Building to the CULC alone tonight," said Chelsea Howell, a third-year HTS major. "No longer do I only have to worry about my test the next day, but I must worry about how I will make it home safely to my on campus dorm. At night, I feel almost alone on a campus of over 20,000."
According to the Dept. of Education's Handbook for Campus Safety and Security Reporting, college institutions are required to report all criminal offenses, hate crimes and arrests or referrals for disciplinary action. Institutions are required to disclose all reported offenses that fall under the above-mentioned definitions.
Students and parents both report concerns about campus safety, especially after CBS Atlanta reported the three attacks on the evening news.
"My parents heard about the attacks and sent me an email making sure my friend and I had acknowledged them," said Sarah Tuell, a first-year UEC major.
"I've always felt safe and campus and still do, but I am slightly more hesitant to go off by myself."
According to crime statistics released by the administration, all crime rates, with the exception of liquor law violations, have decreased since 2008. Between 2008 and 2010, the rates of burglary dropped by 63 percent while the rates of robbery dropped 69 percent. The rates of aggravated assault have also dropped by 33 percent.
GTPD also released a statement to students about the newly instituted increased safety precautions. As well as partnering with the Atlanta Police Department, the Georgia State Patrol and other law enforcement agencies, GTPD will be increasing and enhancing safety patrols.
"Campus safety is of the highest importance at Georgia Tech. For this reason, we are taking extra precautions due to the three incidents that have occurred on campus since October 1, 2011," said the statement released to students on Oct. 4.
GTPD Officers were also available along Tech Walkway between 11 a.m. and 2 p.m. on Oct. 5, 6 and 7 to answer questions from students about these particular issues.
Administration reports that significant changes have been made and will continue to be made to combat crime on campus across the board.
"We've gone from 61 to 78 public safety officers in two years. We're coordinating with APD, with Midtown Blue, we've bought a couple Segways, a Harley Davidson motorcycle [for patrols], so we've made a tremendous number of changes to try to address public safety," said Institutte President G.P. "Bud" Peterson.
"A lot of students I talk to say they feel there's a much stronger police presence which I view as a good thing," Peterson said.
Students are encouraged to immediately notify GTPD of suspicious activity, travel in groups and utilize the blue light phones.