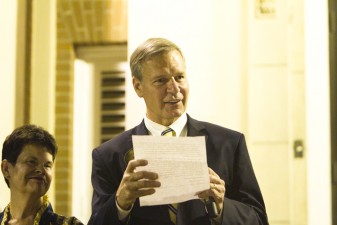 The issue of T thefts from signs has come to the forefront of discussion on campus in recent weeks due to an increase in the number of thefts. According to the Institute, the value of T's stolen from signs on campus has totaled over $100,000.
"This is no longer a tradition. This is a destruction of property, and it's costing you money," said Institute President G.P. "Bud" Peterson. "This is just embarrassing because it makes campus look bad. We've got donors who give us millions of dollars to construct facilities who then walk by those buildings to see the T's stolen from them."
"Recently I have heard from faculty, alum, parents and guests during Family Weekend express concern regarding the number of missing T's on campus," wrote John Stein, the Dean of Students in an email.
The theft of T's from signs on campus has become a common occurrence for the past several months. Notably, two T's were stolen last year from the "Georgia Institute of Technology" entrance signs at the intersection of Cherry Street and North Avenue and near the Health Center.
Students caught stealing T's or vandalizing them have been referred to the Dean of Students' Office for disciplinary action. Five students have been caught attempting to steal or vandalize T's since the start of the year. The Institute has stepped up its efforts to catch students attempting to steal T's by increasing surveillance of prominent signs on campus.
"Students caught stealing, damaging or defacing a T will be taken through the Judicial Process for being in violation of the Code of Conduct. The process will be a fair and consistent one for all students. Students found responsible for a T violation will be sanctioned with Disciplinary Suspension for a specified period of time," Stein said.
According to Stein, students will also need to pay a minimum restitution fee of $250.00 and take part in an educational component as part of the sanctions. In addition to disciplinary action from the Institute, the T thefts could include a criminal component in the future.
"If [T-thefts] continue in the future then we'll start to think about that…right now there is no criminal component but things could change in the future if they don't stop from happening," said William Schafer, Vice-President of Student Services.
Administrators also engaged student leaders to help come up with a solution to the problem. In response, the Student Government Association hosted a weeklong series of events in an effort to engage students and raise awareness about the thefts.
As part of the campaign, students were invited to return any stolen T's to the Ramblin' Reck without any punishment from administration.
"They went about and talked amongst themselves and got creative with it… Students know how to get the word out, help educate their fellow students. I think that they've come up with an amazing week of events," Schafer said.
Historically, the campus tradition of "stealing the T" has referred to the removal of one or more T's from atop Tech Tower. This has occurred sporadically since the late 1960s, with the most recent occurrence in 2003. The lights in the T's on Tech Tower have been turned off for the week to symbolize the loss of our campus T's.
In addition to the theft of the T from Tech Tower, many copycat crimes have taken place over the years. The rise in T-thefts over the past few months is the most recent incarnation of this trend.
"This is such a wonderful place and a great institution. The students are spectacular and this reflects poorly on them, the institution, on our alumni and on me. I just don't understand it. I'm really frustrated because I don't understand what possible pleasure there could be in defacing property," Peterson said.