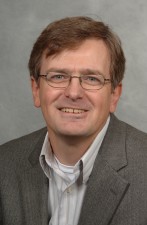 Professor Steven W. Usselman was recently named the Chair of the School of History, Technology and Society (HTS) in the Ivan Allen College of Liberal Arts, and  he will assume the post in Jan. 2012.
Professor Usselman has been with Tech since 1996 and has served as a faculty member within HTS, as well as the Director of Graduate Studies of HTS and  the Associate Director of The Sloan Center for Paper Business and Industry Studies.
"This is a pretty exciting time for Tech, with new leadership at many levels, and all of them very interested in how the humanities and social sciences are integral for  modern science and engineering. One of our major objectives is to build more partnerships with other units of the college, and more importantly with the engineering and science departments," Usselman said.
The School of HTS was formed in 1990, at the same time as the formation of the Ivan Allen College. The School of HTS was one of the three schools that came out of the disestablished School of Social Sciences.
In 1992, the School of HTS was the first department in the Ivan Allen College to inaugurate a PhD program, in History and Sociology of Technology and Science.
The School offers degree programs in HTS that seek to understand technology in a social context and to see how technology is developed and how it fits within the wider range of human endeavors. Beyond this focus on technology within society, HTS also offers a wide selection of general courses in both history and sociology for all non-major students.
"We are not just trying to run a major, we are also interested and engaged in being a part of the greater campus that trains a large number of scientists and engineers, and thinking about how history and sociology fit into that context," Usselman said.
The Strategic Plan, as proposed by President Peterson last year, indicates that "[Tech] will provide interdisciplinary education through flexible, student focused curricula" as one of its foremost goals in shaping the Institute over the next 25 years.
One of the central ideas related to realizing this goal is to allow undergrad students to design their own curriculum, and this has often been referred to as the formation of "the X-college" in various initiatives and proposals.
"There is a real role for people in HTS to help students find their way in this environment [of X-college]. It's useful to have guidance from faculties who have thought about the relationship between engineering, science, and society, because these students would likely be involved with the engineering departments, but also with the Ivan Allen College," Usselman said.
The School of HTS seeks to enhance the education of Tech students by providing social context to technology, and its goal is to challenge the students to be mindful of the social implications of technology from the stage of conception and design, and not just as an afterthought post-deployment.
"We can design the most advanced system, but if we don't think about how it fits into the broader context of society, there is little chance of success. As I've heard [Peterson] put it, students in engineering don't necessarily need another class working with equations, but they may need a class that makes them think about the world," Usselman said.