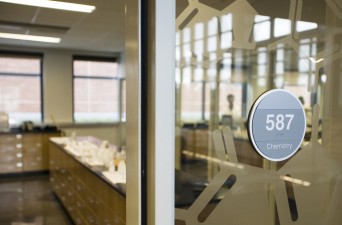 With a 1.4 million gallon cistern, 220,000 square foot in area, 2,100 seats, 360 photovoltaic panels for energy, 41 classrooms, two 300-plus seat auditoria and last, but definitely not least importantly for many Tech students, one full-service Starbucks café, the Clough Commons opened its doors to students and faculty this fall.
"This venue is symbolic of Georgia Tech and its vision to enhance undergraduate education," said Institute President G.P. "Bud" Peterson in his Institute address on Aug. 30.
Featuring tutoring services, academic support and Office of Information Technology offices, Clough Commons manages to create a supportive atmosphere for its residents.
"The building promotes student success…most students seem to be excited about the new building and appear ready-to-work when they walk in," said Lauren Levinson, a second-year BIOL major.
Students also have the opportunity to take any of the 2,100 seats available for study on all six floors, including beanbag chairs in the AstroTurf room featuring a skyline view of Midtown, as well as wood-finished set of steps near the first stairway.
"The big lecture halls have amazing seats and the big projectors work in HDMI [High Definition Multimedia Interface]," said William Luca, a first-year CMPE major. "Also, the armchairs are a great place to finish a project or talk with your friends."
Clough Commons also showcases labs and individual classrooms for all core sciences, namely physics, chemistry, biology and earth and atmospheric sciences.
"I've had a chance to tour the new freshman chemistry laboratories, and they are tremendous," said chemistry professor Jake Soper. "As nice as I've seen anywhere."
"It's pretty cool to have a building where a lot of [general science majors'] classes are located instead of being spread out all over campus with no central location," Levinson said.
Moreover, the Clough Commons, itself a modern structure, is surrounded by plenty of green space to create a friendly environment around the facility.
"It has a great footprint and a great aura," said Linda Green, a BIO academic professional. "It's just great how much space there is available for the students."
Adorned with a plethora of glass doors and windows to facilitate natural lighting in the building, smart lighting systems inside rooms, a projected 89 percent water reuse, 30 solar thermal panels, and many other "green" advances, Clough Commons is a model for modern-day ecologically-friendly buildings.
"It reminds me of the Management Building, the way that it lets the light in through the open spaces," said Preston Mayo, a second-year MGT major. "[Clough Commons] is just such a friendly environment."
Clough Commons, geared towards the undergraduate body, "was a big statement for Tech," Green said, considering that the institution is primarily research-based.
The building also offers many opportunities for teachers. As Peterson put it in his address, "it is here that new teaching methodologies will be developed."
"[Teaching here] is actually the first time I've felt the need for a microphone, or at least felt comfortable wearing one," Green said.
In addition, Clough Commons offers the teachers numerous technological improvements, such as the use of tablets to write notes with.
"The interface at the podium is a lot better…and offers plenty of flexibility for use with projectors," Green said.
However, it's not entirely perfect. The technology may facilitate a broader methodology of teaching, but the lecture hall size for some teachers is a limiting factor in their extension to teaching.
"I'm frustrated by some physical aspects," Green said, as she currently teaches an introductory biology class in a 300 seat auditorium. "It's harder for me to connect with the students, since there is only one aisle going through the pack."
Despite this, students themselves feel very comfortable in the new facility. "It's a great building state of the art facilities," Luca said. "It has become a great place to take lectures and meet new people."