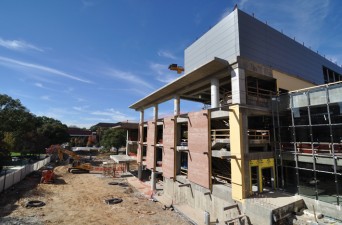 For over a year, many transformations have been underway on Tech's campus.  Although the new Clough Commons and the revamped Skiles Walkway are complete, improvements to Tech are far from over, as Tech revisits its campus master plan for the next Institute renovations.
Soon, there may be gameday tailgating across from Bobby Dodd stadium in a new campus green space—Peter's Park (not Parking Deck), a renovated tennis center with several new courts, and a more modern Ferst Center for the Arts with a glass wall overlooking a sculpture garden.
As the Capital Planning and Space Management Director at Tech, Howard Wertheimer has a strong desire to improve the campus on which over twenty thousand students learn and interact.
"We have completed some incredible things in the past, we are working on some now, and we have plans to do even more in the future," Wertheimer said when asked how he felt about Tech's Master Plan.
Strategically, Tech will look to acquire more land during the next decade or so.  There is a "Tech Square Phase Two" near the current College of Management in the making, another plan for westward expansion and several ideas to continue work around North Avenue.
An Interdisciplinary Engineering Bio-Systems Building will reinforce the "Bio-Tech Quad" near 10th and Atlantic and an open rainwater stream to reduce storm runoff could soon be flowing in the same area. There is news for east campus residents as well—Glenn and Towers will be renovated and upgraded to include a connecting elevator lobby and many multipurpose study rooms.
One project underway during the 2011-2012 school year is a complete overhaul of the Alexander Memorial Coliseum.  The new basketball arena, which will be known as the McCamish Pavilion, will be a new and improved version of the older Coliseum, featuring court-parallel seating and a more significant incline for a better view of games.
This "Thriller Dome's" seating capacity will remain more or less the same to maintain the close-quarter, exciting atmosphere on game days.  The Pavilion will be ready to host games in October of the 2012 season, but until then, Tech fans and students will be able to cheer on the Wramblin' Wrecks at the Gwinnett Amphitheater and Phillips Arena.
All of the improvements that are currently being made to Tech's campus as well as all the plans for the near future are encompassed by the Campus Master Plan. The current Master Plan was drawn up in 1997 and adapted in 2004. It is reviewed every five to eight years in order to reflect more contemporary ideas and strategies, so the document is now undergoing serious restructuring once again.
"This is a living document," Werthheimer said.  "Designs reflected on the plan are not set in stone and are subject to change depending on the circumstances and needs of the campus and students."
He also articulated the necessity of student participation in the development of Tech campus. All the enhancements that are made on campus are drafted with the direct input of faculty, students, staff members, alumni, and community participants.
While functionality and aesthetic appeal are both significant to Tech's campus, environmental impact is an even greater concern to the Capital Planning and Space Management team.
"Tech's campus is an ecosystem within a larger system of the area, the city, the state, and ultimately the world," Wertheimer said.  "It is important for all stakeholders to take part and to be informed."
When Clough Commons was built, a 1.4 million gallon cistern was placed under the lawn.  Over 30 similar cisterns are strategically located across campus under the football practice field and near the Ferst Center to collect rainwater and condensation off of buildings.
By collecting this water, less clean, usable water escapes to sewers for unnecessary treatment.  Five years ago, less than 20 percent of campus was being irrigated with collected water, but now over 50 percent of Tech's green space is watered using this method. The ultimate goal is no usage of city water for irrigation purposes.
Efficient watering systems are not the only things of which Tech has recently become more environmentally conscious.  Tech also entered into the American Colleges and Universities Presidents' Climate Commitment in 2007 to strive for carbon neutrality. To meet some of the goals set forth by this commitment, all future building additions to Tech's campus will be Leadership in Energy and Environmental Design (LEED) certified.