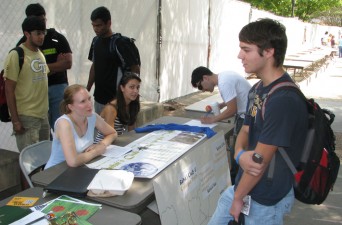 College student retention rates are notoriously low between the first and second year of students' careers. In the ACT's 2010 "What Works in Student Retention Study," the current first-year to second-year retention rate for students at public universities in the U.S. is estimated to be about 74 percent. The Institute's rates are much higher, with 94 percent of students retained after their first year in both 2009 and 2010.
This may be due to the high level of involvement that characterizes much of the student population found at Tech. Throughout their pivotal first year as students, freshmen are regularly encouraged to participate in on-campus organizations by recruitment events and e-mails.
The high number of student organizations, both registered and unregistered, may indeed help to facilitate the retention of students.
"There are organizations for everything," said Gregory Peacock, President of the Academic Team and a second-year NRE major. "The number and variety of organizations for students at Tech is fantastic. One can find many organizations in all categories; professional, competitive, entertainment [and more]."
According to a study published in the Journal of Science Education and Technology regarding retention rates of undergraduate students, student involvement and integration are pivotal to improving the retention rates of first-year students. as is on-campus residency.
The study establishes causal links between campus residency, student involvement and higher retention rates for undergraduates in science, technology, engineering and mathematics (STEM) disciplines.
Many student organizations are funded through allocations made by SGA, the majority of the funding coming from the Student Activity Fee (SAF) that each student pays as an addendum to tuition.
"We are doing everything we can not to increase the student activity fee in such tough economic times, so organizations didn't get increases in budgets last year and likely won't again this year," said Aaron Greenwood, Vice President of Campus Organizations. "Spending, however, is up to the House and Senate although they both seem more apprehensive about large expenditures."
Though the number of student organizations at Tech seems to have been on the rise over the past few years, Greenwood said that this has not had a significant financial impact on SGA's funding allocations.
"The number of student organizations ultimately hasn't impacted SAF allocations," Greenwood said. "The [financial branches of SGA] have focused more on quickly reclaiming unused funds and making small cuts to all organization budgets to ensure that there is enough funding to go around, as it appears that there will be."
Vice President of Finance, Charley Crosson, confirmed that there appears to be no added financial burden from the number of student organizations.
"Speaking upon the past two semesters, I have not seen a significant spike in financial pressure from our vast number of student organizations," Crosson said. "The accounts are actually at very high amounts to start off for fiscal year 2012, and I do not see a threat from a large number of requests for funds."
Many campus organizations do not receive funding from SGA, including the Residence Hall Association (RHA) and the Student Foundation.
RHA receives funding from resident fees, which is included in the rent per semester. The Student Foundation allocates an average of $15,000 a semester to student organizations and draws funding from an endowment that is replenished through fundraising efforts.
In order to charter a new student organization and register it with the Office of Student Involvement, students must find a faculty or staff member to serve as an advisor, register ten listed members, acknowledge the Alcohol Policy and ensure compliance with the SGA Constitution. According to the SGA Constitution, organizations must collect dues in order to qualify for the opportunity to submit a budget request to SGA.