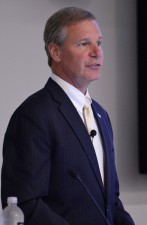 Officially announced this time last year by Institute President G.P. "Bud" Peterson, the Strategic Plan functions as a vision of progress and public service both on and outside of campus. The launching of the recently formed Steering Committee is another example of emerging avenues for innovation and service at Tech, as the group strives to ensure that progress is being made in accomplishing existing and future strategic planning projects.
A number of faculty and administrative staff are working together to facilitate the success of objectives within the committee, co-chaired by Steve Swant, executive vice president for Administration and Finance; Steve Cross, executive vice president for Research; and Rafael L. Bras, provost and executive vice president for Academic Affairs. The executive leadership team expects that students will soon be seeing more programs and infrastructural improvements on campus as a result of committee involvement.
"A lot of individual initiatives were coming out of the conversations…I'm hoping [that] because there are some very good and capable people on that committee that they'll provide the underlying insight that will help us to be successful," Swant said.
The formation of the Steering Committee was suggested due to the ambitious nature of the Strategic Plan itself. There are many projects to be implemented in years to come, and the co-chairs are confident that the combined efforts of committee members will help in constructing a strong foundation for the Plan's vision.
"We wanted individuals who are not responsible for managing academic units, but rather those that represent the faculty and staff that should see, hear and feel the strategic plan in their everyday lives," Bras said in an e-mail.
The Steering Committee also anticipates that including faculty and directors from an array of departments across campus will prove advantageous to project development in the future. The membership committee was deliberately selected to engage individuals who are familiar with the culture, changes and trends on campus. One of these participants is Dr. Hugh Crawford, Associate Professor for Ivan Allen College. Crawford attended the initial meetings, and he is excited to work with the varied group.
"There are people from all departments of the school…it's interesting to be in a room full of people who come from so many areas of study…everybody brings a different set of interests and stakes to it," Crawford said.
An important issue that the committee hopes to address is the financial impact of Strategic Plan projects. They want to make sure that resources are being properly allocated by prioritizing the initiatives and aligning them with key donors and corporate partners. This will serve to sustain long-term projects and allow the Plan to move forward.
Having formally convened twice since its launch on July 29, the committee intends to meet monthly to discuss the ongoing state of initiatives and necessary changes. The overall aim is to create an efficient decision-making process through collaboration and to create discussion opportunities.
"Very often, strategic plans can just be documents on a shelf and you very quickly lose sight of them…that's not the intent of this president or this leadership team. [The intent] is to have it be the framework of what we do going forward and to actively utilize it by organizing people to accomplish things—it all becomes more effective when you've got that framework," Swant said.