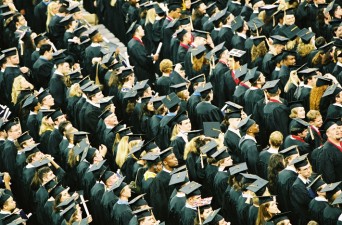 The 2010-'11 Tech undergraduate exit survey results show that students are most unsatisfied about the school's student-faculty interaction.
In contrast, students indicated that one of the most valuable skills they learn from Tech is the ability to take responsibility for their own education.
Ten years ago, Tech's Office of Assessment began conducting undergraduate exit surveys. These are voluntary paper surveys that are handed out to students once they sign their degree petition. These surveys evaluate students' experience at the Institute for their undergraduate and graduate degrees.
The survey is comprised of institute-level questions and then college-specific questions. The Office of Assessment is directly responsible for gathering the results and then dispatching the information for each college to use individually.
More than 60 percent (2,017) of those who graduated between 2010 and 2011 participated in this survey.
"Overall, students are very satisfied with their education received in the school. But one of the most prevalent things we hear students complain about is the need for increased student-faculty interaction [and] the lack of opportunities for engagement," said Jonathan Gordon, director of Georgia Tech's Office of Assessment.
The survey results show that 85 percent of respondents said they would definitely recommend Georgia Tech to a friend or relative, and 85 percent said that they would definitely recommend their program of study to a friend or relative.
"However, it's quite interesting to see that one of the most valuable things students say Tech taught them is being able to learn effectively on their own," Gordon said.
This point provides a contrast to the issue of student-faculty interaction.
Other valuable skills that over 90 percent of respondents ascribed to developing during their times at Tech include experience in problem-solving skills, mathematical skills and critical thinking skills.
The direct purpose of these annual exit surveys is to identify those aspects of undergraduate experience inside and outside of the classroom which can be improved, in addition to components that should be sustained or expanded upon.
Many new initiatives, such as the Inventure Prize competition and various other improvements around campus, have been established thanks to the feedback gathered from those who have elected to participate in the surveys.
A number of years ago, a handful of problems in Tech's Information Technology infrastructure were identified through the surveys.
"We discussed this, did some further investigation and eventually made additional hires of IT staff, developed a policy of how we distributed new technologies, and used the evidence in the surveys to put a priority on IT as part of our annual Technology Fee request. Because the surveys are done every semester, we could track progress over time and determine whether or not we were improving," said Douglas Allen, senior Associate Dean of the College of Architecture, in reference to some resulting improvements.
Originally, exit surveys were tied to one signing their degree petition upon reaching graduation.
This year, the Office of Assesment is switching from paper-based surveys to online surveys. Furthermore, the surveys are not tied to degree petitions. Nonetheless, equal or greater student participation is encouraged for this voluntary survey collection process.
The Office of Assessment also conducts a Career and Salary survey, which helps both prospective students and parents to make decisions about their future career. Despite the fact that these surveys are voluntary for the most part, a plentiful amount of students participate.
"I think students understand that these surveys can help other prospective students. Without the feedback, we wouldn't know where to improve. Ultimately we want decisions to enable the best opportunities for the students," Gordon said.