As the pandemic continues to affect daily life, student organizations at universities are struggling to keep student engagement high when the only option for social activities is a virtual platform.

A new app, KemNu, which was created by a current Tech student, is designed to help organizations increase member engagement and provide an efficient and impactful platform.

It was created as part of the CREATE-X program.

Vishwa Mudigonda, Chief Technology Officer of KemNu and CS graduate student, explained the challenges student leaders face.

"We spoke to over 1000 individuals to get a good understanding of some of the pain points many college students were having," Mudigonda said. "Turns out, eight out of 10 organizations are having difficulty managing members, funds, logistics or some of their hosted events."

Mudigonda, together with Viraj Patel, Chief Executive Officer of KemNu, have found a solution to this issue.

"Colleges need a platform where they can improve engagement rates, get more members and so on," Mudigonda said. "And that's why we built KemNu, the ultimate college platform that brings students, organizations and local businesses together."

All of the events hosted on KemNu are exclusive to the educational institution or college that users are attending. One way that the app increases engagement is by gamifying it.

"The more you participate in events that's hosted on KemNu, the more KemNu coins you earn and you can utilize these KemNu coins to redeem local offers from local businesses around Tech," Mudigonda said. "Students love earning those rewards and we are seeing engagement rates are up 400% for some of the organizations that have hosted events on KemNu."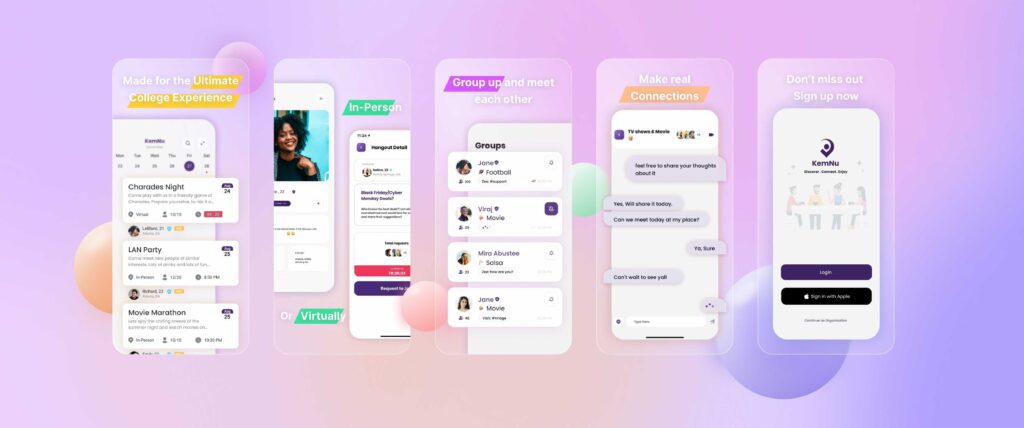 There are plenty of benefits for organizations as well, including a metrics dashboard to track logistics and a secure way to collect member dues.

Additionally, KemNu keeps notifications and clutter to a minimum.

"After an event is over, 24 hours later, the group chat gets deleted for that event," Mudigonda said.

"So it reduces clutter. It frees up a lot of space. People are not bothered by thousands of random message groups."

Viraj Patel and Vishwa Mudigonda met at a party while they were attending Georgia State University.

They had both had previous startups fail in the past and suddenly realized there was an issue that could be addressed right in front of them — partygoers were on their phones instead of talking to one another.

"Smartphone addiction's a real thing and we ended up building out a platform saying, 'Okay, if they're using smartphones, why don't we leverage that as a tool to connect with those students and let them know some of the cool things that's happening on campus and let them come join those events and actually have a good engagement and a college experience,'" Mudigonda said.

The name KemNu comes from Gujarati.

"In Gujarati KemNu, kem means, 'Hey what's up,' and nu means new friend, new person," Mudigonda said. "So when you put it together, it's like 'Hey what's up new friend.'"

After developing their idea and name, KemNu turned to CREATE-X for assistance to get started.

"They provided us a lot of mentoring, they also provided us funding as well, so that was great," Mudigonda said. "Utilizing those funds we were able to contact developers offshore. So we hired some developers in India and they're building out our tech platform. We come up with business requirements, we come up with mockups, they build it for us."

Vishwa Mudigonda and Viraj Patel have grown their team to include Salina Patel, Marketing Director; Benjamin Adams, Marking Specialist; Rajat Vashisht, IOS Developer; Tenghui Ge, UI/UX Designer; and David Pan, Software Engineer.

After the pandemic caused major changes to college campuses and course delivery, the team made quick changes to their plans to focus on virtual events.

"I think a lot of people have been able to engage in a way that was different than before, but it really has been important for mental health of individuals," Salina Patel said.

"So I think our pivot has really helped fill that closeness that people have been losing."

Looking forward, KemNu has plenty of goals and plans to expand their app and reach.

"Our next goal is to build out our web and Android application. So, we have many organizations that are saying, 'Hey look, we know you're on the Apple App Store, on the iPhones only. We have a lot of students in our organization who have Android. Is that something you can build for us, and this is something we're totally on-board, if you were on both platforms,'" Mudigonda said.

As a piece of advice to any students who dreams of their own startup, Mudigonda recommends never giving up, no matter the failure you may face.

"Always keep learning," Mudigonda said. "There's a failure around every single corner. You're not going to get clients, you're going to send millions of emails out, you'll probably get one back. You're going to be spending so much time for very little in return, but all of that hard work does not go wasted. You get better and better at it each time."

Finally, make sure to find a problem to address that you want to solve.

"Don't give up. Just keep going forward, and learn through your mistakes," Mudigonda said. "Always figure out a problem you're going to solve, and it's a genuine problem.

"Don't just blindly make something and hope it's going to succeed because that's not what works in reality."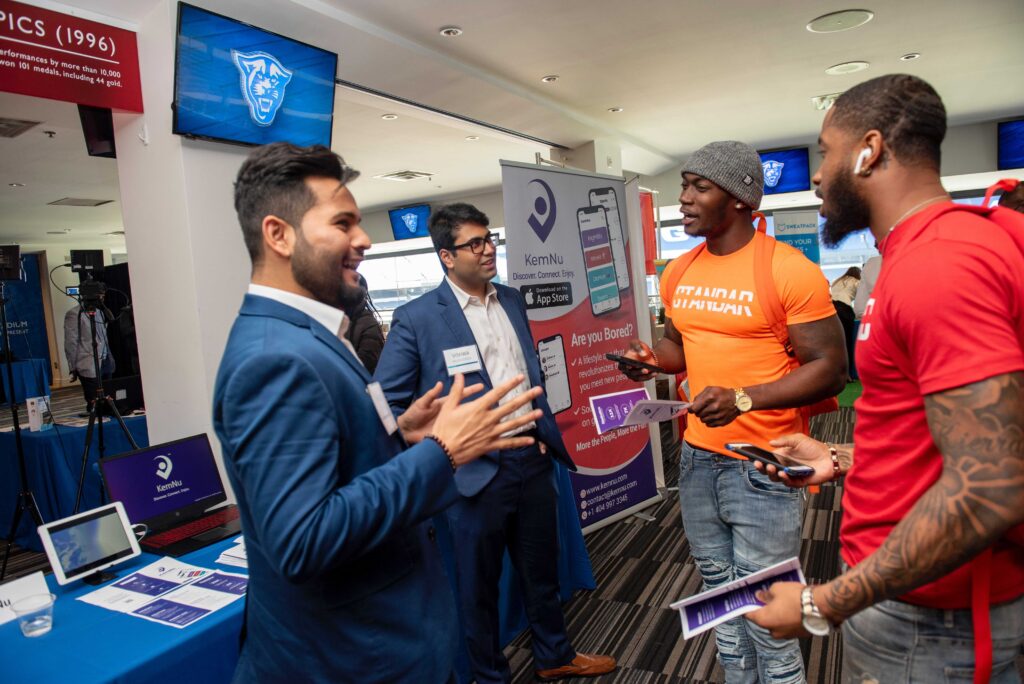 KemNu can be downloaded from the Apple App Store. More information can be found at kemnu.com.