Campus Movie Fest, a national competition running for the 12th year in a row, came to campus for its annual event showcasing student's creative filmmaking abilities from universities across the U.S.
Teams contend for several prizes, the most prestigious of them including specially-made director's chairs and statuettes to the winners of the Best Picture, Best Drama and Best Comedy categories.
Avery Grant, the CMF Promotions Manager, was astounded by this year's turnout.
We had a record 199 student teams participate in CMF this year.
"We had a record 199 student teams sign up to participate in the Campus Movie Fest at Georgia Tech this year," Grant said. "Attendees packed the Student Center Theater on Thurs., Jan. 24 to see the top 16 movies made by Tech students, doubling last year's attendance."
Tech students began participating in the competition in 2004 and have continued ever since. Each year, students are given a week's time, as well as an Apple laptop and a Panasonic HD camera, to develop a five-minute short film to present during the event.
Each year, the event sees a mix of amateur filmmakers new to the business, as well as veterans who have acquired more experience in the art.
Top films from Tech are screened at an awards ceremony and advance to an international competition at CFM Hollywood, taking place between June 20 and 23.
Last year's festival featured special guest appearances by 30 Rock's Jack McBrayer, Community's Danny Pudi, Saturday Night Live's Horatio Sanz and host Adam Ferrara of Top Gear fame. Nearly 1,000 from 100 participating campuses attended.
This screening features special guest celebrities and awards over $100,000 in opportunities.
The competition, which sees entries from over half a million students across the country, encourages participants to think outside of the box and offers experience for aspiring filmmakers. Participation in the event continues to grow yearly.
Best Picture went to Delta Beta Delta's "Math: The Musical."
Best Picture for 2013 went to Math: The Musical, created by Delta Beta Delta. The short film tells the story of a young man who loses and later regains his faith in mathematics thanks to a unexpected intervention.
Awards include a 12-month subscription to Adobe Creative Cloud membership, an invite to screen their film at the 2013 Cannes Film Festival Short Film Corner, an invitation to screen at CMF Hollywood and an invitation to the CMF Distinguished Filmmakers Network.
Best Drama was awarded to Just Like You, produced by Just By You. This short film features a young man who struggles to reconcile heart with home-life. Tech's own Wayne Lee played an important conceptual role in the both the creation and production of the short film.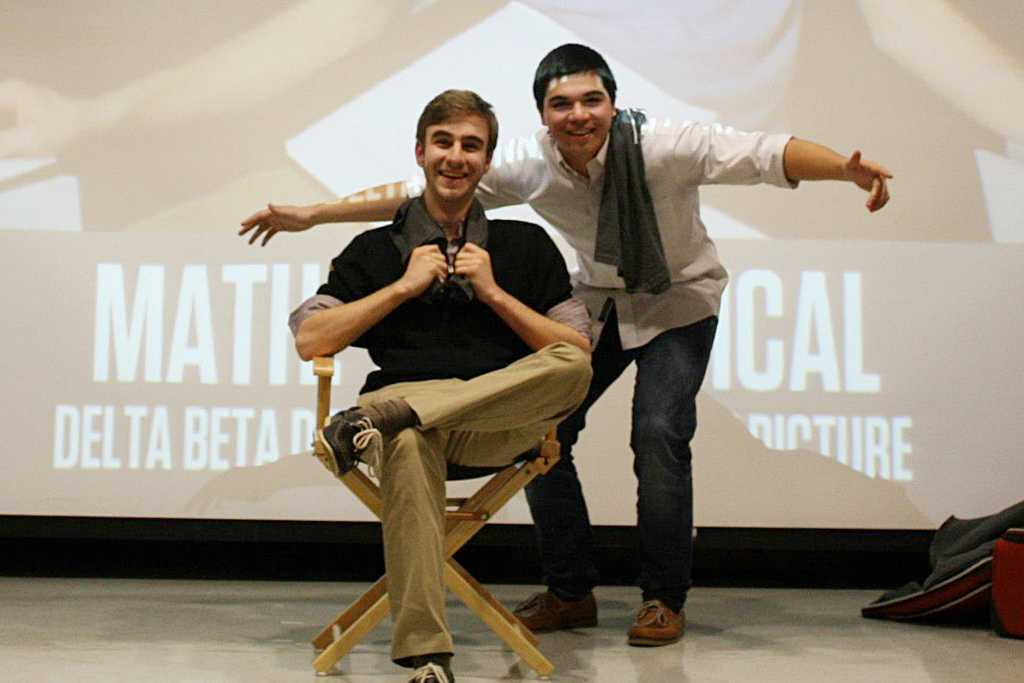 "I always wanted to make a short film with an anti-bullying message," Lee said. "After talking to people like Emilio, Manny, Justin and Taylor, we started bouncing the idea around until we eventually came up with the final concept that we presented during the Fest."
The group is currently preparing to display its masterpiece short film to CMF Hollywood in June for the national championship event.
Other noteworthy awards were also distributed during the red carpet premiere in the Student Center.
Justin Miles took home Best Actor for his performance in Just Like You, while Erin Lanier claimed Best Actress for her role in the short filmHard Boiled.
Other awards still available for the taking include the CMF Wildcard and CMF Millionaire.
The film with the most views on Feb. 25 at midnight will be awarded the sought-after Wildcard and will move on to compete in an online national bracket for the opportunity to screen their project during the CMF Hollywood event to take place this June.
The coveted Millionaire prize goes to the any group receiving onemillion or more views on its short film. Winners will be awarded an Apple iPad.
Awards and recognition aside, Campus Movie Fest provides students a unique opportunity to explore their creative sides and potentially launch a film career in Hollywood.