Basic Housing
Freshman Experience
Residents are encouraged to become part of a community…
As a basis of comparison for rising sophomores, the Department of Housing's Freshman Experience Program is designed to make the transition to a college lifestyle as smooth as possible. Residents are encouraged to become part of a community, providing opportunities to take on leadership roles and become involved in weekly events.
All Freshman Experience rooms are traditional two- or four-person rooms with community restrooms. Two-person rooms and four-person rooms are $2787 and $2675 per semester, respectively.
Instead of having a Resident Advisor (RA), students are assigned to a Peer Leader (PL)—an upperclassman who can guide residents through many aspects of life at Tech. PLs are encouraged to take their residents on various outings throughout the semester.
Meeting other students is a big part of entering college and the Freshman Experience provides many opportunities to do so. Emerging Leaders and Freshman Activities Board are a few programs which enable students to improve their leadership skills while building new relationships with their fellow students.
Freshman Experience halls are also community-oriented. With their "open door" policy, academic and social support, residents are encouraged to engage in events with other students and become acclimated to the campus environment.
Students living in the Freshman Experience participate in the Freshman Experience Meal Plan which gives them access to the three dining halls on campus and a set number of Ramblin' funds to use in on-campus dining locations.
Suite Style
A suite is an acceptable compromise between apartment life and dormitory life for many students. Suites  are made up of a set of two-person rooms similar to those in a dormitory. There are two different suite-style buildings on campus: Woodruff Hall on West Campus and Harris on East Campus.
"It's more fun getting to know more people. You don't miss out on dorm life."
These two-person rooms are connected to a full bathroom. Therefore, people who live in suites experience a room environment similar to that of a dorm, though the lack of a community bathroom is more akin to apartment accommodations. The Residence Life staff provide activities as they do in dormitories.
Also similar to dorm life, furnishings include standard desks, desk chairs, wardrobes and dressers. There is also a community kitchen and laundry, similar to the facilities in most dormitories.
Some students prefer suites to dormitories. Roshan Garg, a first-year student living at Woodruff, explained that the suite-style building had social advantages and was conveniently located.
"I think I like the dynamic of a four-person rooming arrangement better than I would just being with one roommate. It's more fun getting to know more people. You don't miss out on dorm life. Plus, my suite is right above a dining hall, so getting food is never a problem," Garg said.
The rental amount for a suite is $2,909 a semester. This is slightly more costly than living in a dormitory, but for those looking for a cheaper option than an apartment, a suite is a viable choice.
Apartments
Tech offers several options for on-campus apartments on East, West and North Campus. There are three standard apartment styles that students can choose from.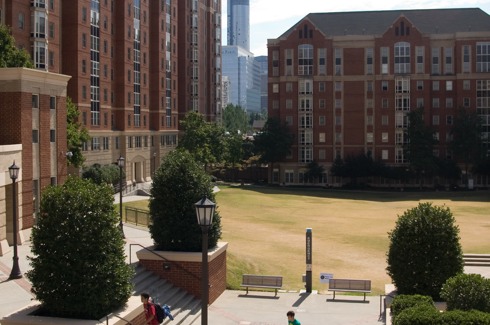 The first has private bedrooms with a shared kitchen and bathroom. Popular apartments in this category include North Avenue Apartments, Maulding, Crecine and Eighth Street on West Campus, as well as 10th Street Apartments on North Campus.
These rooms each include two bathrooms, a kitchen and a living room. However, furniture provided by each apartment varies by room. Each bedroom usually provides a bed frame, a mattress, a desk, a chair, and a dresser. Here, each individual room has an approximate area of 95 square feet. The kitchens in these apartments are equipped with a refrigerator, stove, oven, dishwasher and microwave. These rooms most commonly accommodate two to six residents, although rooms with more bedrooms exist in the Undergraduate Living Center.
The second type of apartment is limited to graduate students. The only apartments of this type are at 10th and Home East. These apartments have individual bedrooms with a shared living room, kitchen, and washer and dryer. These individual rooms are furnished with a bed frame, a mattress, a desk with chair and a dresser. These rooms are larger than the common four-bedroom apartments, at an average area of 120 square feet. The living rooms are each furnished with a couch, a coffee table and two arm chairs. The kitchen includes a dishwasher, microwave, a stove, an oven and a refrigerator, with a dining area furnished with a table and chairs.
Apartments are popular choices for upperclassmen Each of these apartments cost about $4,000 a semester.

Specialty Housing
Women Science & Technology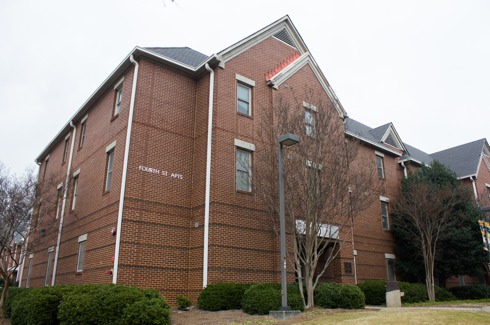 The WST Learning Community offers a program for female students which includes activities and events for its 48 residents living in the Stein and Goldin Houses, located in Fourth Street Apartments. The residents participate in events include monthly dinners and "informal lunch discussions" with presentations from guest speakers for educating WST students on a variety of campus resources and professional opportunities, from career strategies and resume building to interview skills and graduate school.
…from career strategies and resume building to interview skills and graduate school.
Students also join in a  humanities elective course and a coffee hour that takes place prior to the class, both which are led by Co-Director for the Center for the Study of Women, Science and Technology Dr. Carol Colatrella.
Residents are expected to engage in specialized Student Committees to plan programs in different areas. Some of these committees include Communications and Recruitment for student outreach, the Working Women Committee for career planning and the Study and Service Committee that works with local middle school students on hands-on activities in Girls Excelling in Math and Science (GEMS) clubs.
Greek Housing
With 39 fraternity and sorority facilities on campus lodging approximately 1300 students, Greek housing is a viable option for many. The majority of Greek houses are privately owned and function outside of the Department of Housing.
According to the GT Guide to Greek Life on the Greek Affairs website, fraternity and sorority accommodations are competitive with other options, with housing per semester generally costing less than the average on- and off-campus rates.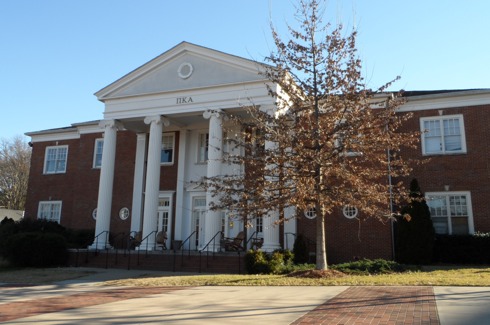 According to Tanner Marcantel, Assistant Dean and Director of Greek Affairs, the fraternity or sorority experience can enhance a student's college career by providing a community of support that living in a Greek house can enhance.
"For those chapters with a facility, they are able to provide a living environment and a learning environment that supports social interactions and emotional well-being," Marcantel said.
Megumi Takeda, a fourth-year BME major, lived in her Alphi Phi sorority house for a summer. She emphasized that bonds between sorority and fraternity members can grow stronger during the experience.
"I really grew into a strong relationship of trust with them. Having that support around me was great."
"Living with those girls was a lot of fun…we hung out and had movie nights, and I really grew into a strong relationship of trust with them. Having that support around me was great," Takeda said.
Choosing to live in a Greek house can also be an opportunity to gain easy access to academic support.
"One of the girls I lived with in the house was a group member in one of my classes. It was really convenient to work with her. We had a lot of fun in the house, but school work is a priority too and it can be easier to study with people you know and are around when you need them," Takeda said.
I-House
The International House, or iHouse as it's commonly known, is a diverse on-campus community that accommodates 24 international and 24 American students each year, half of each group male and the other half female.
Located in Fourth Street East and Hayes House residence halls, students have a suite-style living arrangement with individual rooms connected by a shared full bathroom. Encouraging cultural interactions and exposure, iHouse residents participate in programs such as i-Film (which screens international films) and i-Outreach volunteer projects.
"You get a really close-knit community here, and it's easy to make good friends with similar interests."
Nikita Rao, a fourth-year STaC and ALIS major from India who was raised in the UK and is a permanent Georgia resident, has lived in the iHouse for three years.
"You get a really close-knit community here, and it's easy to make good friends with similar interests. We eat together, go to the gym together and have a lot of cultural events like iIndia and iKorea where we get to experience different foods, dances and presentations," Rao said.
Japanese exchange student Daisuke Namba, who has lived in the iHouse since the fall 2012 semester, also enjoys the organized events and outings that bring the residents closer together, as well as the outlet for new global opportunities that the community provides its residents.
"It's a family environment, and since we're making connections with people from all over the world, if you want to travel you can meet people who know the culture and can help you when you get there," Namba said.
The deadline to apply for a space in the iHouse is Fri. Feb. 8 at 5:00pm.
Think Big
For students who desire real-world educational experiences in a topic of interest to them, ThinkBig at Tech provides an opportunity to interact closely with like-minded peers and faculty mentors. Projects and activities take place both on campus in a variety of subjects, from environmental sustainability to explorations in Atlanta. The program is sponsored by the Center for Academic Enrichment and the Department of Housing-Resident Life.
Each ThinkBig community has approximately 30 members and all of them—with the exceptions of the International House (iHouse) and the Women, Science and Technology Community—are located in apartment-style housing in North Avenue and WESTech housing.
Participating in ThinkBig is a two-semester commitment.
There are nine ThinkBig communities to choose from for the 2013-2014 academic year. These include Applied Humor, which focuses on the use of comedy in technical innovation and communication, and Center Stage for the performing arts at Tech. [email protected] combines day trips to outdoor reserves with volunteer opportunities, while Thought for Food offers culinary experiences.
Participating in ThinkBig is a two-semester commitment. Applications for potential ThinkBig residents and non-ThinkBig roommates are due by the Feb. 28 housing deadline.