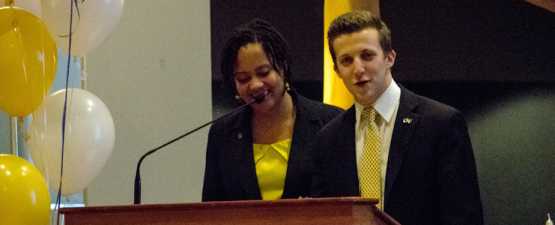 Members of the Tech community met on Thursday night in the Student Center Ballroom to celebrate the life of Martin Luther King Jr. Emceed by Eran Mordel and Jasmine Lawrence, the celebration featured student speakers and performers who contributed to the evening's theme, "The Dream & The Journey Continue."
The first performer, Shreya Ahuja, an IE major from New Delhi, gave an interpretive dance featuring a character who, against the advice of her cynical peers, leaves a cave to see the outside world for the first time. Ahuja compared the wonder of such a sight to the vision that leaders like Gandhi and Dr. King held for the future in a dark past.
Henderson Johnson II, a first- year AE major, spoke about how much remains to be accomplished in "Martin Had a Dream, Now We Must Make a Plan," focusing on the importance of exercising civil liberties.
He spoke about the current state of freedom and equality in America and how much of it relies on the actions of individuals.
"I wanted to make people aware of the fact that so many complain about politicians…[but many people] aren't actively participating in government," Johnson said.
In addition to his political point, Johnson also saw many obstacles that remain in the way of equality, such as limited educational opportunities, income disparity and gender inequality.
Marnie Williams, a third-year BMED major, drew from her experience as the only white person visiting Antioch Baptist church in "Pioneers." Williams agreed that the fight for equality is not over. She noted that divisions between students still exist in the form of self-segregation.
"The only way we are going to break these barriers is if we become the pioneers who put ourselves in situations where we feel like outcasts," said Williams.
Chiamaka Ukachukwu, a fourth-year BCHM major, gave a spoken word performance of one of her original poems, "Let the Record Play." Her poem portrays the American civil rights leaders as regular people who brought about fantastic change.
"I got involved because I loved the idea of celebrating Dr. King's legacy from the voice of the student body," Ukachukwu said.
She has participated in the annual event since it started two years ago.
"I think it's important that our generation realizes that our voices matter," Ukachukwu said.
Gillen Heisler, a second-year IAST major, gave his speech, "Moving the Dream Forward," on inequalities that remain unresolved today.
Heisler acknowledged that racism still exists, and that sexism still manifests itself in unequal pay for women.
One particular issue, the treatment of homosexuals by society and the government, lay very close to him.
Heisler, who is openly gay, spoke about the realities of homophobia and having gay friends who have committed suicide, fallen into depression, and were bullied by family members and peers. He recalled being fortunate enough to have a supportive family and friends, but reminded the audience that many others are not as lucky.
"This speech was certainly a step forward to [encouraging people to] do what we know is right—granting every citizen equal rights," said Heisler.
Jacob Tzegaegbe, a CE grad student, gave his speech "The Flame of a Generation," a captivating account following the life and death of Mohamed Bouazizi, which set off events that sparked revolutions in the Middle East.
Tzgaegbe's performance illustrated the youth in Arab countries finally taking action to change entire governments forever.
Then, in sharp contrast, he brought up the modern American youth.
"Looking at what our peers have done through their solidarity and passion in the Arab Spring…this shows us what we can accomplish if we come together. It is time for us to stop watching and start moving for what we as a generation believe in," Tzegaegbe said.
The evening was not without a few surprises. When Taal Tadka, an acapella group, could not attend the ceremony, Stephanie Ray, Director of Diversity Programs at Tech, filled in for them. She gave a powerful performance of Coretta Scott King receiving news that her husband had been assassinated.
Near the end of the event, Alpha Phi Alpha Fraternity, Inc., of which Dr. King was a former member, gave a step dance performance.
The gospel choir G.I.F.T.E.D. (God's Influence Flowing Through Every Disciple) sang some of Dr. King's favorite songs, followed by a candle lighting ceremony by representatives from student organizations across campus.
The night kicked off a series of events which will celebrate Dr. King's life over the course of the month.