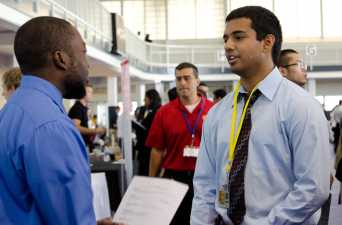 With the start of a new year, the career center is bustling with workshops and activities designed to enhance the professional potential of students.  Some of these upcoming opportunities include programs such as "Creating a Professional Resume" and "Successful Interview Strategies," as well as extended events like Mock Interview Week and the Georgia Tech Annual Internship/Co-op Fair.  Spaced throughout January and February, these events are geared towards students looking for employment opportunities.
The career center offers a collection of programs to assist students in their professional and academic choices. They provide advice about choosing a major and information on career pathways, as well as walk-in times for one-on-one questions and counseling. The upcoming events in January and February target building professional networks and interview skills.
The center is hosting the 8th Annual Mock Interview Event from Jan. 22nd through the 25th in which over a hundred professionals will volunteer their time, conducting practice interviews with students.
"500 students took advantage of this great career development opportunity.  These volunteer professionals simulate a real interview during their first 30 minutes with a student and then use the last 15 minutes to provide constructive feedback on their interviewing skills," said Center Services Representative Kevin Stacia.
The program is a valuable tool that provides insight on one's interviewing technique, communication strengths and weakness. It also provides familiarity with the process. To register, students must log into their CareerBuzz account and follow the directions included on the webpage.
Career Services is also hosting the 2013 Georgia Tech Internship & Co-op Fair on Jan. 29-30, from 10am-4pm each day in the Student Center Ballroom. Companies at the fair will bring a host of samples and products, but one thing to remember is the main goal of the fair is to get a co-op or internship interview.
"The most essential requirements are business attire, multiple copies of your updated resume, a well-rehearsed personal statement to introduce yourself to recruiters, a positive and confident attitude, and a career fair strategy," Stacia said.
Some of these strategies include identifying the top 10 to 15 companies to visit and researching job openings within the selection of companies prior to attending the fair.
"Having a strategy before you enter the fair will enable the recruiting experience to be more productive for both students and employers," Stacia said.
Guides to finding success at these events are available at the Career Services website.