[media-credit name="Tiara Winata" align="alignleft" width="555″]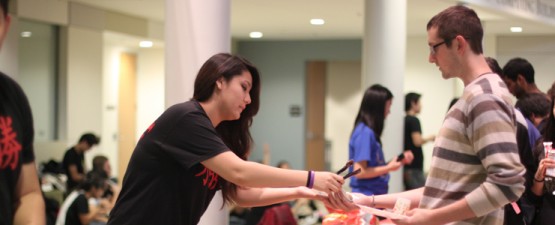 [/media-credit]China Care Club invited students and guests to experience Chinese culture through food. The event, which took place on Nov. 8, showcased a variety of Chinese dishes.
Attendees were greeted with over thirty different options for entrees, desserts, snacks and drinks. From lo mein and Mongolian beef to crystal shrimp dumplings and Di San Xian—a popular vegetable dish—there was an assortment of food items that blended dishes that are typically well known in American Chinese cuisine with more traditional dishes that might be new to some palates. Local restaurants in the Atlanta area catered the event.
Specially-made recipe cards were distributed by the China Care Club at the start of the event, featuring instructions for how to prepare a range of different Chinese foods.
"A lot of clubs do food events to get people to come, but we've tried to be different with the recipe cards so that people can make these dishes at home and we can make this more of a culturally educational experience. We also brought in dishes that people maybe haven't heard of and are more authentic to Chinese cuisine," said Alice Chen, a third-year ISYE major and China Care Club President.
From simpler dishes that typically take only twenty minutes to prepare to more challenging dishes for more adventurous cooks, the recipe guide highlighted a wide selection of Chinese fare.
"The food was awesome, and I think that a lot of students would be able to make the relatively simple dishes like fried rice in the [recipe] book. We're all on really tight schedules here…and this is something that I would definitely try to cook myself at some point," said Siddhant Chawla, a second-year BME major.
China Care Club was founded in fall 2010, and works as mentorship program for members of the organization to meet with locally adopted children from China, bring them to campus and introduce them to Chinese culture with games and activities.
Members of China Care Club were enthusiastic about the idea of combining food with a cultural show.
"Food appeals to everyone, and it's a great way to get people to come to an event like this because it gives them an incentive to learn about Chinese culture and what we're doing as an organization on campus to promote our culture too," said Katherine Ji, a second year BA major.
Though the food was the main attraction for the event, the attendees were also treated to raffled prizes and a show from several campus student groups. The event opened with a synchronized dance performance from IMPACT, a medley from Tech's Glee Club and a hip-hop routine from Swagger Crew.
For the finale, the audience was given a traditional Lion Dance performance. Widely associated with Chinese New Year festivals, the dance involves two people working as the head and body of the lion, moving in rhythm to the lively beat of musicians on drums, gongs and cymbals.
The lion engaged in a playful style of performance, visiting audience members, standing on its hind legs, scratching its head and dozing off, much to the crowd's amusement.
The coordination and skill of the two performers as they manipulated the lion were well-received by the audience, which gave them a standing ovation.
"I think the cultural performances are a great compliment to all of the delicious Chinese food, and people can enjoy the combination. Food is something that everyone likes, and students [can do what they would have been doing anyway—eating dinner—but get an exciting cultural experience out of it," said Catherine Gu, a third-year BME and ALIS major.