[media-credit name="Stephen Schmidt" align="aligncenter" width="555″]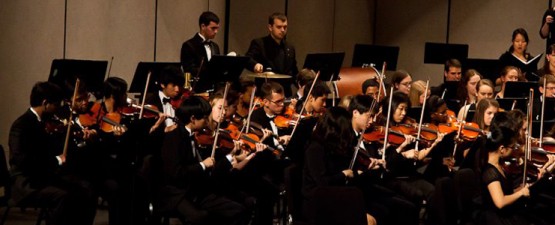 [/media-credit]
The GTSO performs a wide variety of music, from classical standards to contemporary film scores. The holiday concert is a must-attend for students interested in taking in seasonal classics. Concerts are held in the Ferst Center theater.
"We have two concerts a semester. Our holiday concert is coming up on November 29. It's free with a BuzzCard and ten dollars general admission," said Amanda Francis, president of GTSO.
Crystal Chao, the GTSO's pianist, said that audience members can derive much from the GTSO's concerts.
"Music can tell stories, make jokes, and evoke other times and places, but it's also incredibly subjective in the feelings and imagery it induces in people. So everyone doesn't get the same thing out of a concert, but hopefully the delivery is rich enough that the musicians communicate something to you that makes your life more interesting," Chao said.
For Francis, the classical pieces performed at GTSO's concerts are a rich source of both relaxation and mental stimulation for audience members.
"Good music, no matter what it is, affects a person in some way. We can do that for the rest of the Tech community…[to] bring them into our concerts not just to listen to our music, but maybe they'll have a better day. Maybe they'll be relaxed and go back home and be able to finish their homework without staying up all night," Francis said.
Students may also find the GTSO's concerts to be socially interactive events with something for everyone.
"Large musical ensembles like GTSO and the GT Chorale have a profound social impact on a campus community. They bring together students from all different majors and backgrounds in a collaborative activity that is intellectually and socially rewarding. A concert enables people to share their music listening experience, have conversations about it, and be introduced to new pieces or interpretations they haven't heard before," Chao said.
In order to spread these benefits to a wider audience, in her tenure as GTSO president, Francis has focused a great deal of effort on campus outreach and initiating a robust advertising campaign, aimed in particular at the student body.
"When I went to FASET as a freshman, I asked if there was an orchestra and my FASET leader just said, 'Oh, I don't know.' I want to bring [GTSO] into the community. I want to bring it to the front minds of the students on campus," Francis said.
The production value found in each GTSO concert is built upon the hard work and dedication of its many musicians.
"Everyone who is in the orchestra is there because they want to be. That brings the orchestra to a different level," Francis said.
The orchestra is composed of musicians who represent a complete spectrum of experience and expertise.
"A lot of the musicians in the orchestra have grown up around classical music. We also have a musician who a couple of years ago learned the violin from scratch," Francis said.
The commitment towards producing excellent music pervades the orchestra, and this devotion is quite obvious in the orchestra's president.
"I love the orchestra. I truly feel that we produce some really great concerts. It's a free event that people can come enjoy and relax and have a good time," Francis said.