Rushing a fraternity or sorority is a decision that hundreds of Tech students make every year. The social aspect of Greek life is inherent, but being affiliated can have an effect on many different areas of college life, as well.
Greek organizations promote community service and  volunteer work, providing opportunities during the year for students to get involved in these activities and network at the same time.
[media-credit id=15 align="alignleft" width="555″]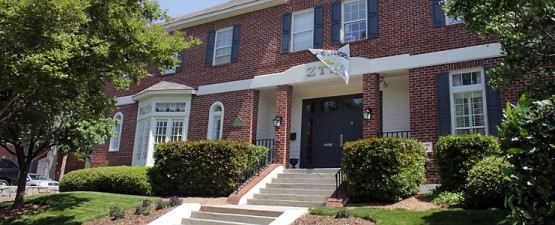 [/media-credit]
"Volunteer work and community service are a huge part of who we are and what we do as Greek students. The responsibility to serve your community alongside your brothers or sisters is something that is built into the core values of many fraternities and sororities," said John Noojin, Vice President of Recruitment for the Interfraternity Council (IFC) and a fourth-year BMED major.
The intramural program is another visible part of Greek life. According to the Greek Affairs website, fraternities and sororities are major participants in a wide range of sports including flag football, soccer, racquetball, amongst others.
"Intramurals are an outlet for members of a chapter to work together… there's something very special about working with your brothers or sisters to accomplish a goal… [and] the relationships and leadership that come from teamwork during intramurals is incredibly strong," Noojin said.
For academics, Greek organizations often provide study groups and tutoring programs to help students with their studies. IFC and the National Pan-Hellenic Council (NPHC) chapters also have a minimum group GPA, which if not met can result in social probation. GPA standards are a right of the chapter as set by the Panhellenic Council.
"It really helps make the balance between schoolwork and social life a little bit easier because you have people around you who can support you through your academics… [and] GPA requirements can sometimes push you harder to do well and manage your time," said Melinda Lewis, Graduate Assistant of Greek Affairs.
Some affiliated students also find the support of brothers or sisters within their Greek organizations helpful when it comes to academic success.
"It's been great knowing that sisters [either] in my classes or who have taken the classes that I'm taking now can study and collaborate on projects with me. Having that support academically has been great. They know that school life comes first," said Paige Parks, a third-year BIO major and member of Alpha Xi Delta.
At the same time, pledging a Greek organization is a time commitment. Between mandatory house functions, chapter meetings, volunteer work and Greek Week events, members have to schedule their activities and manage their time, often just as carefully as students involved in non-Greek organizations.
"The great thing about our community is that we realize that academics come first. We all attend Tech and we know that it's a rigorous school. All social events are optional for chapter members… [and] the only mandatory meeting is chapter, once a week. Greek life teaches and encourages students to learn time management skills because we want to participate in the things going on in chapters while maintaining strong grades, " said Evelyn Murray, President of the Collegiate Panhellenic Council (CPC) and fourth-year CM major.
There are dues and initiation fees associated with joining a Greek organization. On top of college tuition and other expenses, pledging is a monetary commitment. However, many fraternities and sororities offer scholarships to assist students with these costs.
According to a survey in the 2011 Guide to Greek Life, Greek housing and meal plans can be on par with or less expensive than compared to average Tech costs.
"The dues and fees are presented up front, and students can look in the Guide to Greek Life that is published every year that outlines the costs associated with Greek life so they know what is required of them financially beforehand," Lewis said.
Students are encouraged to find networking and leadership opportunities in college that can help them gain valuable skills before entering the workforce. More than 75% of leadership positions on campus are represented by Greek-affiliated students, according to the official Greek Affairs website.
"We had elections right after I was initiated, and I took on the roles of Vice President and Program Chair. I had never been in a leadership position prior to this, and… it definitely made me work to learn how to become a leader," said Nicole Henry, President of the Nu Beta Chapter of Alpha Kappa Alpha Sorority, Inc. and fourth-year PFE major.
The sense of community that comes with joining a Greek organization, along with the history and traditions of the organization itself, attract many students to pledge. But there are other aspects that, while requiring commitment on the student's part, can add value to college life.
"Greek Life at Tech is a community… there's always something to do and plenty of ways to get involved, whether it's through philanthropy or leadership opportunities. The academic support from the Greek Community is amazing. There's always someone there to help you with class selection or homework, even if they're not from your chapter," Murray said.