Democrats and Republicans here on campus face many of the same stereotypes that a majority of people associate with the party as a whole. However, the College Republicans are hoping to break that mold.
"I'm a young, Hispanic conservative, which you don't see very often. Not all Republicans are gun-toting, bible loving, right extremists that you see. Most Republicans just want better for themselves," said Andres Celedon, third-year PUBP major and president of the College Republicans.
At meetings, the College Republicans discuss local GOP events and sometimes have guest speakers come and talk about pertinent political issues. They also provide networking opportunities for members on the weekends. This year, the College Republicans held voter registration drives alongside the Young Democrats, hosted a September 11th memorial, advocated for concealed carry on campus and helped to establish a club here on campus.
[media-credit id=15 align="alignleft" width="555″]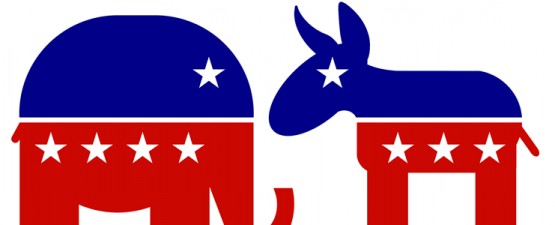 [/media-credit]
On the other side of the spectrum there is John Koch, who leads the Young Democrats here on Tech's campus and also at the state level.
This year, the Young Democrats have handed out Valentines with condoms, had a meeting to discuss Democratic platforms, participated in a statewide rally for Young Democrats in Georgia and were involved in the opposition of the concealed carry on campus.
As with the Republicans, the Democrats on campus are making an effort to abolish the established stereotypes that come with the national stigma of their party.
"People need to learn what socialists are before they call someone a socialist, and people must realize there's a difference between being a flagrant hippie and simply caring for your fellow man," said Colin Baxter, a first-year AE major and member of Young Democrats.
In this year's coming election, there is one thing both Democrats and Republicans on campus can agree upon, jobs.
"Job creation and the economy will be the key issue in this presidential election," said Baxter for the Democrats.
"We want everyone here graduating to be able to get a job, it impacts everyone here on this campus," said Celedon on behalf of the Republicans.
For fourth-year MGT Imram Ali staying above party politics has been the key issue when it comes to this year's election.
"I enjoy politics the way others enjoy football. There are two teams (Democrats and Republicans) going up against each other…each is trying to get that touchdown to win the election. Except in this game, the fate of the country is at stake," said Ali.
However, Ali has chosen other ways to get involved in government, particularly by interning at the State Senate.
"I chose to get involved in government outside of Tech because my political leanings don't necessarily match up completely with the Democrats or Republicans. I'm hoping to intern again in a government position this summer to continue to gain exposure with the inner workings of how government works" said Ali.
Despite their differences, Young Democrats and College Republicans here at Tech work to get young people to vote.
"I'm all for getting people to vote, no matter which way they vote. I'm all for people getting in the political process. You shouldn't complain about the political process if you aren't a part of it," said Celedon.
Both organizations also face difficulty when it comes to inspiring student involvement.
"We have to try to find people that are already interested," said Celedon, "we do our best to get as many people registered and to physically go vote, which is the hardest part."
"There's not a lot of Democrats down south, we have to stick together, solidarity is key," said Baxter.
Regardless of political sentiments, political involvement is essential. This generation will soon be leading the country. With the multitude and ease of options of political activism on campus, anyone can get involved in creating change within their community.