Most students have heard of the Student Government Association, some could even point out the undergraduate or graduate student body presidents if they saw them, but far fewer students have heard of UHR, the Undergraduate House of Representatives and the Graduate Student Senate (GSS).
[media-credit id=15 align="alignleft" width="337″]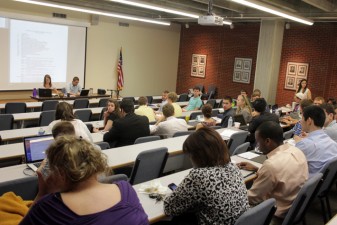 [/media-credit]
The House and the Senate are part of the Legislative branch of SGA. Fifty-six undergraduate representatives and 33 graduates elected from academic units and classes meet weekly to consider financial bills and resolutions that affect the entire undergraduate student body.
Some of their responsibilities include allocating the student activity fee money to chartered student organizations, modifying the structure of student government, approving bylaws and constitutional amendments and expressing the position of the student body.
"There's nothing that compares to an organization that can enhance the experience of every student on campus. There is a lot of work to be done to support it and working alongside the impressive people who make it work is what continually motivates me to stay involved at a higher level," said Brooke McDaniel, Speaker of the House and a fourth-year BA major.
"Realistically, the professional communication and people skills I've learned will take me further than a lot of my classwork Additionally, I've learned that the people around you are almost always your greatest resources and that If you are willing to go out of your way to help people out when they need something, be it someone else in SGA, an administrator or another student, it will certainly come back to benefit you in the long run," McDaniel said.
Representatives spend many long meetings settling budget discussions and disputes.
"Budget season means long meetings, and anyone involved in UHR knows that from the start. It isn't something that anyone in the room takes lightly when you are allocating nearly $5 million," McDaniel said.
Many students aren't aware how beneficial of a resource SGA can be. "The most frustrating part of UHR and SGA as a whole is that no matter how many students you reach through an open meeting, a newsletter or social media there are still many students that don't understand what we do or what opportunities are available for them," McDaniel said.
Anyone is welcome to sit in on UHR and GSS meetings. GSS meetings are Tuesdays at 11 a.m. and UHR meetings are Tuesdays at 7:30 p.m. in the Flag building.
To get more information on how to submit a bill, get funding for a student organization or how to get involved with them, visit sga.gatech.edu.