Sixty years since the first woman was admitted to Tech in 1952, the male to female ratio continues to be an interesting topic for discussion. Even though the 38% share of women in the incoming freshman class is better than previous years, there is still a need to inform more and more women about the benefits of a Tech degree.
The Women's Recruitment Team (WRT) at Tech is an organization dedicated to this very problem, their main goal being recruiting high school girls who are considering an education at Tech, and helping them with the application process. "It is important for girls to know about a Tech degree because it gets them great jobs", said Jennifer Jones, a WRT member and third-year MSE major.
"Our advisors are admission counselors. We work with them to promote Tech education to girls who are sophomores and juniors in high school," said Lauren Gross, a WRT member and fourth-year ME major.
[media-credit name="
Sho Kitamura | Technique – The South's Liveliest College Newspaper " align="alignleft" width="337″]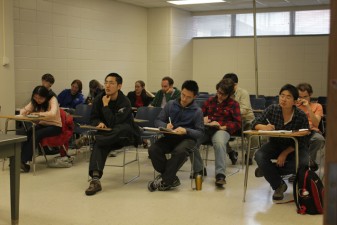 [/media-credit]
The recruitment process involves answering questions that applicants have about Tech, dispelling stereotypes and sharing with the girls the great things about campus and the institute.
"Most girls have questions about whether they can be involved in…sororities, housing, dining hall, freshman experience, study abroad, internships [or co-ops]," Gross said.
The WRT doesn't just contact potentials when they are still thinking of applying to schools but gets in touch during the application process.
"We call girls who have started the application for Tech to remind them to finish the application, and to answer any of their questions about Tech. Little things like writing birthday cards to any girls that have applied also helps. We're not trying to dissuade them from going to another school, we're trying to tell her how good Georgia Tech is, as it has been in our experience,"  Gross said.
Some of the activities organized by the WRT are Girls Night Out, for out-of-state women who have been accepted at Tech. For admitted in-state women, WRT has three or four socials, where they invite them to socialize and ask questions.
"We are planning to introduce a softball tailgate this semester," Gross said. This will be in addition to football and volleyball tailgates introduced last Fall.
The Futures program is also a vital strategy for recruiting women at Tech.  Hosted by the Office of Undergraduate Admission and the WRT, it allows high school sophomores and juniors to visit the campus and meet with faculty, staff, and current students, and seek answers to questions relating academic programs, study abroad, internships, research opportunities etc.
Despite the efforts of WRT, there still seems to be an observable gap between the number of women and men at Tech. Since the team's inception in 2005, Tech has experienced only a 2% increase in the amount of women.
"I don't think Tech is intimidating. The out-of-state tuition is what holds [girls] back," Jones said.
A better exposure to Tech's environment can also be a greater influence in women's choice. "I wish that everyone can actually come to campus instead of calling and sending emails," Jones said.
Efforts like those of the WRT go a long way in changing the minds of many young high school students about their future and the college they pick. With continued strides such as these, it is certainly possible to obtain a more balanced ratio at Tech.