Nestled in the northeast corner of campus, just behind the Shirley Clement's softball field, is a slightly unassuming looking building that goes largely unnoticed by a majority of students here on campus. Yet for some, this rather large and architecturally distinguished building represents more than just Tech; to them it represents a nation, a populace, and a language. It is here that one finds the Language institute.
Established in 1958, the Language Institute was created in order to provide non-native English speaking students with the opportunity to improve their English grammar and communication skills through an intensive English program, or IEP.
"[The Institute] started in modern languages. It was just a summer program and then through the years it kind of expanded. Because it's a non-credit program, in the 80's it shifted over to what's now called Georgia Tech Professional Education. For many years we were just an intensive English program getting students ready to do university work," said Karen Tucker, director of the Language Institute.
Run by an expert faculty, trained specifically to teach English as a second language (ESL), the IEP provides highly specialized programs to help aid language skills development. During the course of the semester, students study for twenty hours a week in one of the many core classes offered in order to develop a proficiency in reading, writing, speaking, and grammar.
Along with this core curriculum, students can choose from a variety of electives that range from movie making, pod-casting for pronunciation, and survival English.
[media-credit name="Sho Kitamur a| Technique – The South's Liveliest College Newspaper" align="alignleft" width="337″]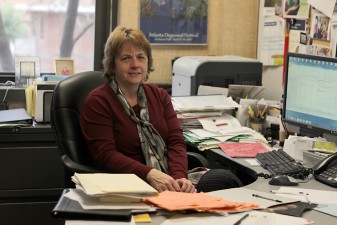 [/media-credit]
Not limited to just Tech students, the program is open to students who may be looking to attend other universities throughout the nation, non-academic professionals, and any one else who is looking to polish off their English language skills.
"We also had business people that would come to improve their English and sometimes people came for social reasons, but probably 80 percent are college bound. They could be Tech students, they could go to other places," Tucker said. Besides providing help with the English language throughout the year, the institute provides summer educational programs such as pre-MBA work, graduate prep workshops, and a short-summer IEP course for students and any one else in the Atlanta community.
"I've been here in America for eleven months and the experience has been great. I improved my language skills and it's been a really great experience," said Mohammed Aljaizani from Saudi Arabi.
The Language Institute's desire to further the education of language skills for its students is not confined to the borders of I-75 and Ferst drive. By reaching out to other programs across the globe, the institute now has partnerships with universities and organizations across the globe.
"Instead of just intensive programs, we've expanded our services. We do special exchange groups now for the campus. For example, there's a Chinese summer program where Americans can go over to Shanghai Jioa Tong University and so we host Chinese students here," said Tucker.
In addition to the Chinese program, the institute has created the Fullbright program. A conglomerate between Tech, the Emirates Nuclear Energy Corporation (ENEC) in the UAE, the Turkish Ministries of Education, and King Abdullah University of Science and Technology to address Tech's growing interest in Middle Eastern culture and languages.
Last year, Anna Potter, associate director of the language institute conducted a recruiting fair in Brazil. "Brazil has a growing market for international students. The open doors report [Published by the Language Institute] tells us where international students are coming from and Brazil has really shot up [recently]," Potter said.