Just looking around on campus, it is a fairly easy conclusion that most students own a smartphone. Simultaneously keeping up with Email, Facebook, text messages, Twitter and others can cause an information overload.
On Facebook, Twitter hashtags have become the norm and students email each other in phrases that have spelling errors and abbreviations. With the ability to use so many forms of communication at once, students can have trouble altering their language to match the form.
"One of the problems I have with owning a smart phone is that I've begun to email as another way to text. I have a hard time remembering to begin an email with a greeting and end with a signature. There have been times I've forgotten to address a professor correctly and it has been really embarrassing," said Meara Coy, first-year CHEM major.
Perhaps due to the increasing informal emails received, some professors have included sections in their syllabi's about the proper way to send emails to them. Classes such as CS 1371 include an entire lab dedicated to using the Buzzport email server to set up a signature.
Another factor that leads to errors in email etiquette is how accustomed society has grown to rapid communication. In conversation, there is no way to pause and edit the words already spoken, however in an e-mail there is as much time as needed. Often people neglect to review their emails, which can come across as unprofessional and sloppy.
[media-credit name="Sho Kitamura | Technique – The South's Liveliest College Newspaper" align="alignleft" width="337″]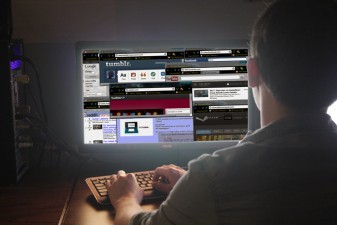 [/media-credit]
Naturally email accidents happen, and it is important to recognize appropriate ways to remedy the situation. If a minor typo has occurred, there is no need to panic, mistakes happen. If an e-mail has been sent to the wrong recipient, simply send a apologetic email and move-on.
Be conscious of attachment sizes; Large attachments will clog up the recipient's inbox and cause trouble. Use services like DropBox or Yousendit.com to share large files.
Another common misconception is that using exclamation points makes one seem cheerful. Keep exclamation use to appropriate events like celebrations.
Thoughtful word choice should be able to express emotions without use of punctuation.
Still, some students prefer to use colloquial language in email to create a closer bond with their professors.
"I know all my teachers by first name because I go to their office hours. They never complained when I shot them a short email filled with errors or forgot to address them as Doctor or Professor," said Cameron Grace, fourth-year ME major.
Though Professors may be friendly, it's best to assume they would like to be addressed professionally through email. The best way to do this is to include a proper greeting and signature with a descriptive subject.
Before sending any email, read over the content to make sure that there are no spelling mistakes and no slang language such as 'dude' or 'lol' and the email isn't signed off xoxoxo.