Artsy Eats
Swan Coach House – 3130 Slaton Drive: This restaurant, gift shop and art gallery was transformed from a Coach house on the Swan estate in Buckhead in 1965. Operated by the Forward Arts Foundation, Swan Coach House helps support visual arts in and around Atlanta. With a southern antebellum ambiance, the Swan Coach House offers traditional dishes, tea, and the best in Atlanta's art selection. Currently the gallery exhibit is "Architects as Artists," and is open from 10 a.m. to 4 p.m. Tuesday through Saturday, while the restaurant is open 11 a.m.  to 2:30 p.m.
Apache Cafe – 64 Third St.: Brimming with color, Apache café is both a venue and a gallery; featuring local artists on the walls and a small stage for emerging visual performers. Opened in 2001 as Apache café, the building has had several past lives for a variety of different establishments, from Laundromats to dance clubs to pubs, and the way it stands now in its present avatar. For hours and event listings, check online at http://www.apachecafe.info/
Galleries
High Museum of Art – 1280 Peachtree St.: The High Museum of Art needs no introduction. Presently, the High is featuring a 'Warhol to Piccasso' exhibit that features fourteen artists that revolutionized the world's perception of art. The pieces are carefully selected from the Museum of Modern Art in New York.  "The Art of Golf" is another exhibit open at the High that explores 400 years of golf through photographs, drawings and paintings. The museum is open most days 10 a.m. to 4 p.m., spare a few special hours that can be verified online.
[media-credit id=15 align="alignleft" width="337″]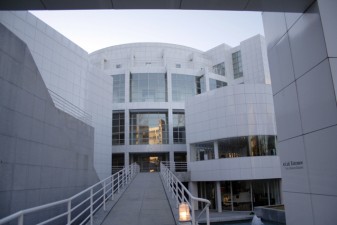 [/media-credit]
Young Blood Gallery – 636 N Highland Ave.: Started in 1997, Young Blood has become a hotspot for emerging artists to get noticed and display their talent. Art openings occur the first Saturday of every month, giving art aficionados the opportunity to find unique objects. Their current exhibit is called, "What's not to Love?" It features 30+ local artists. They are open Sunday to Thursday, 12 p.m.  to 8 p.m., and Friday to Saturday, 12 p.m. to 9 p.m.
Theater
Alliance Theater – 1280 Peachtree St.: Located right next to the Atlanta Symphony Orchestra and the High Museum of Art, the Alliance Theater hosts award-winning shows on a weekly basis. Founded in 1968, the Alliance Theater has been setting the standards for theaters in Atlanta by proving that performing arts can flourish and cultivate within Atlanta's perimeter. Currently "The Wizard of Oz" is showing on Alliance's main stage; tickets can be purchased online or in person at the box office.
Dad's Garage – 280 Elizabeth St.: For those looking for some laughs, consider Dad's Garage Theater Company. They have been on the Atlanta scene since 1995, when they started as a group of volunteers. Their variety of scripted and improvised skits have been recognized nationally as they continue to win awards for excellence in Best 'Theater' and Best 'Improv Troupe' categories. On Thursday nights, Dad's Garage has College Night, where tickets are half price for any student.
Art Out and About
Krog Street Tunnel – 1 Krog St.: This unique tunnel is a go-to-spot for a special immersion in art that no gallery could reproduce. Covered with layers upon layers of graffiti, this tunnel emits a mysterious and profound aura of passion. It is always changing forms as artists paint over layers of paint.