One of the greatest challenges about living in student housing is the lack of space. Students often have a lot of stuff with little room to organize. This makes it important to utilize space efficiently and smartly in order to make the most out of living on campus. When done properly this makes even a small dorm room feel like a home.
"I live in Woody's, and the rooms are pretty big but with two of us, we don't have much space. My roommate and I decided to bunk our beds, and then we got a futon because we had more space," said Erica Yong, a second-year ISyE major.
Many students buy cheap and versatile furniture such as futons or small tables from places like Ikea to make the most of their space. "I lofted my bed and put an Ikea futon underneath. I've also got a tiny TV so when I come back from class I can just sit in my chair and watch TV," said Malika Zurich, a second-year MGT major.
[media-credit id=15 align="alignleft" width="339″]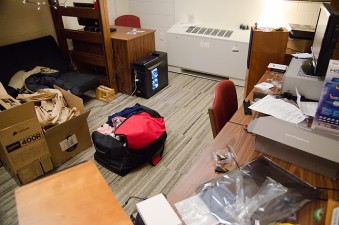 [/media-credit]Wall art, rugs and lamps can liven up a small room. "My roommates and I decided to buy a bunch of posters for the living room. We felt that it would make the place feel more like home, you know? It's nice because we can just make the living room our own," said Jenny Burnett,  fourth-year BIO major.
Other students make their living space their own by rearranging the furniture provided by campus housing.
"I sleep on my mattress on the floor and then put all my boxes of stuff on the lofted bed frame. It's so much easier this way because now I have space for my desk and chair and wardrobe and I don't have to worry about all of my stuff," said Emily Bell, fourth-year M.E major.
Other students who dislike living on campus and the small living quarters of campus housing get a little creative.
"My roommates and I hate the couches that are in the living room, so we took them out and put them in one of our roommate's rooms. We bought new couches and put them in there and now he sleeps in the living room," said Michael Blane, fourth-year CHEM major. "Some people who come over think it's weird, but we all like it better that way, and now my roommate has a couch in his room."
There are many ways to make better use of small campus space. Some students buy futons and loft their beds to increase space, while others simply rearrange the furniture that is provided. Putting up art and placing lamps makes the place more inviting.
Even though campus housing doesn't provide fancy furniture or much room, with a little bit of creativity, any campus space can be transformed for the better.