Choosing a place to live on campus can be tricky. Everyone has their own tastes when it comes to their living quarters. For some, socializing is paramount, while for others, a comfortable bed and a quiet place to study is sufficient.
One place on Tech campus that offers all that and a little something else is the International House, or the I-House for short.
The I-House is a great place on campus for different cultures and nationalities to come together and experience life together.
The I-House is located in the Hayes House and Fourth Street apartments on Techwood Drive.
Each room in the I-House consists of two individual rooms separated by a bathroom, thereby providing each resident with a space of his or her own. This space is a lot bigger than that in the individual rooms boasted by the popular North Avenue Apartments, with the added benefit of meeting some interesting people on each floor.
The I-House crowd is evenly divided.
"50 percent of the residents are exchange students, and fifty percent local and international," said John Piechowski, an exchange student from Australia and I-House resident. Present residents represent countries like Denmark, Australia, Britain, Ireland, Korea, China, and India.
With a vibrant, diverse group of people living in close quarters, it is common for I-House residents to walk through the halls and receive free casual lessons in languages such as French, Spanish, and even Swedish.[media-credit id=15 align="alignleft" width="337″]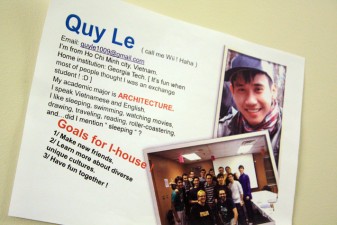 [/media-credit]
I-Culture events are popular amongst residents. I-Culture events, such as I-India, or I-China, for instance, are events hosting food and music from a certain country.
They are great for mingling with other cultures and trying out something other than the usual fare at the dining halls.
The I-House receives a certain budget, like any other residence hall, to throw parties for occasions such as the Super Bowl, Valentine's day, and others.
Living in a community with different cultures also involves a good amount of tolerance of other people's customs and traditions.
"People here have an open mind, and if they have a problem, they usually talk to someone about it," Rao said.
The cost of living in I-House is more or less along the same lines of living in any other Tech apartment, with rent starting at about $3000.
For some, this is a good investment as there are ample opportunities to make new friends, learn new things, have fun, and most important of all, learn about the world that is beyond the Tech bubble.