For many students that live on campus, it can be hard to come up with things to do outside of academics.
Though Tech is located in the middle of a bustling city, entertainment venues are not easily accessible using public transportation. Frat parties on the weekends aside, what can students do to hang out on campus?
Bookstores can make for interesting places to spend time. When wanting to read something that isn't found on a class syllabus for a change, students should head over to the Barnes & Noble in Tech Square. Grab a warm beverage from Starbucks and browse the aisles for interesting genres. Call some friends over and review the books together.
For those who don't find anything of worth in doing that, the Tech Rec may be a good alternative. Students can always be found in the gaming lounge, which features a variety of consoles to choose from. [media-credit id=15 align="alignleft" width="336″]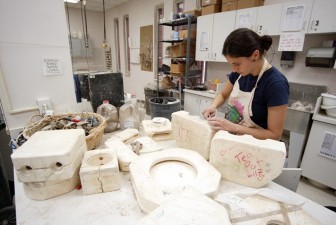 [/media-credit]
A little competition in life is natural, so challenge friends to a game of darts, ping pong, air hockey or foosball. Bowling and billiards are also crowd pleasers, and with practice even a novice could pick of these games in no time. A game of bowling costs $0.99 per person from 11 a.m.  to 6 p.m. on Fridays.
Give the artistic right-hand side of the brain the workout it has been missing at the Craft Center, located on the Student Center third floor. Making a vase, a bowl or something more imaginative with different clays to choose from, or just use a mold and paint an unfinished project can be stress-relieving.
In the "Play Pen," there are materials in supply that can be used to make picture frames, stain glass and generally distract from the reality of impending midterms. For those into photography, the darkroom in the Craft Center can be rented for $15 a semester and can be used to develop film.
Curran Parking Deck volleyball and basketball courts across from the Undergraduate Learning Commons provide opportunities to start friendly games with friends. Playing intramural sports like soccer and flag football on the SAC fields is also popular, and the Burger Bowl is a perfect spot to toss a Frisbee or a football around.
When hungry, grab a bite to eat at Umma (Japanese) or Barrelhouse in Tech Square. When getting lunch at the eateries in the Student Center Commons, take it to the Campanile for some air or the rooftop gardens of the Clough Commons to enjoy the view.
Check event listings in the Student Center and the Ferst Center for the Arts on campus to mix things up.