[media-credit id=15 align="aligncenter" width="555″]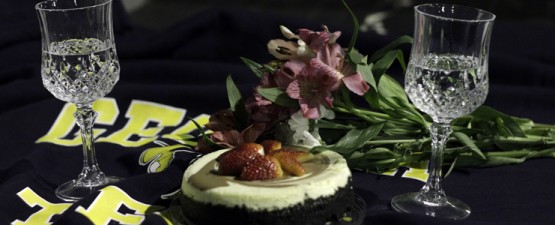 [/media-credit]
There are a lot of conflicting opinions about Valentine's Day; many find it fickle and a waste of time, while others embrace the idea of celebrating love.
Creating the perfect day to celebrate a shared love is often a tremendous pressure on a guy's shoulders, but as long as you put your date first, everything will be fine.
The important thing to remember about a Valentine's Day date is that the perfect date is truly a function of who is going.
For some this equation might be integrating movies on a couch from morning to night, while for others a successful result comes from a polynomial of interesting activities throughout the day.
Despite being in a major metropolitan area, the perfect date in Atlanta does not have to break the bank. With some clever planning and preparation, a day of romance celebrating one another's company is well within reach.
To start off,  bring something for your date when picking them up. Not all girls are into flowers, but all girls love to be thought about and feel appreciated, so bring her something, whether it be flowers or a potted plant. It will get you rolling on the right foot.
Instead of going out to some lavish and extravagant restaurant at the end of your evening, consider taking your date to a nice brunch: Heavy dinners can end up making you sleepy and frankly, not feeling particularly sexy.
Consider Barbotte's Café on Highland Avenue for a romantic French brunch, or La Travola on Virginia Ave for Italian selections. Brunch will also be less expensive yet just as luxurious as a fancy dinner.
After brunch, it's time to explore. At this time of the year, walks through the park are pleasant, particularly in lovely whether but if you want to step if up a level, go to the Atlanta Zoo, where you can purchase a student ticket for just $17 with free parking.
Spend your afternoon holding hands and strolling around Zoo Atlanta observing over 1000 different animals in 250 different species. If the weather isn't so great, consider the Atlanta Aquarium.
If you'd rather get a little dirty a little earlier in the day, bring your date paintballing. It is a rush of adrenaline and though you might come out with a few battle wounds, protecting your date from enemy fire can gives a chivalrous quality that might come in handy later.
At Nitro Paintball in Canton, you can get everything you need to play as well as a field fee for only $35 a person. There is another similar place called Classic Paintball in Lithia Springs.
A cool thing to try out is Geocaching. It is it is an outdoor treasure hunting game using GPS-enabled devices. About 1.7 million "treasures" in locations world-wide, called caches are waiting to be found. The caches can vary from an empty ammo container in the middle of the woods to a film canister hidden under a park bench with a magnet.
They are located in every place imaginable and there are a huge number in and around Atlanta. In fact there are 10 caches on campus itself.
I've geocached on a date in New York City, and there's nothing cooler than reaching into the nook of a tree on 5th avenue and pulling out a cache smaller than a tube of chapstick. To look up cache locations and learn more, go to www.geocaching.com.
Once it is around six or seven o'clock, it will probably be about time to get a bite to eat. Since you've already knocked out the fancy part of the date, consider going someplace interesting and fun that you might not otherwise visit. Lunancy Black Market, a restaurant on Mitchell street, won a Creative Loafing award for "Best Cheap Eats," and is renowned for its tapas.
The last part to the evening is a different twist on a date classic: to the movies. Except this time we're leaving the $15 ticket and $10 popcorn at the ticket counter.
Starlight Six Drive-In, located on Mooreland Street, costs just $7 for admission to a double-feature. You can bring anything you'd like; in my case I brought a marble cheesecake topped with fresh-cut strawberries and a dessert wine.
Equipped with warm clothing and blankets, we transformed the back of my date's pick-up into our own romantic movie booth. You can sit on top of your car, bring lawn chairs, stay in the car, even wander between the six screens. There is even a snack bar with regular movie snacks.
No matter if you stay in the car or go for a picnic-style experience, a drive-in movie theater is the perfect end to a romantic day in Atlanta for an affordable price, not to mention the perfect beginning to a romantic night.
Just remember when you are planning out a date that your date is the one you want to please here, and if you're already in a healthy relationship you should be able to have fun doing just about anything. Any experience is what you make it, so no matter what you do keep a smile on your face and remember to celebrate love.