[media-credit id=15 align="aligncenter" width="555″]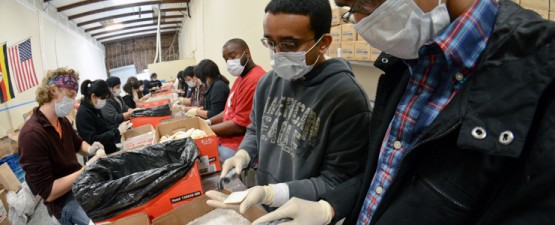 [/media-credit]Sometimes, the biggest problems have the smallest solutions.  Derreck Kayongo illustrates this concept brilliantly.
After a tough childhood as a refugee in Uganda, he moved to the U.S. to create a better life for those back home that are less fortunate than him by tackling a huge epidemic with a simple solution.
Millions die every year because of a lack of basic cleanliness: since 2009, seven million children have died due to disease that could have been prevented with proper hygiene. Kayongo's idea started with a stay at a hotel, where he noticed his soap was replaced every day although he barely used it.
When he inquired the fate of the lightly used soap, he discovered it was all being thrown away: not even recycled. While this seems like an insignificant fact, in fact an estimated three million bars of soap per day are thrown away.
Kayongo found an ingenious way to bridge the gap between the waste of the hotel industry and the lack of sanitation measures in less developed countries.
In 2009, he began asking for hotels in the Buckhead area for their used soap and was given, in all, about 500 pounds of soap by the Intercontinental after his first presentation.
While maintaining a full-time job, he faced the challenges of finding the time to collect soap, lifting and loading soap, usually with only his wife to help, and spending time and money trying to network with potential donors. The work was physically demanding, and it put a financial strain on his family.
With determination, Kayongo was able to get the Global Soap Project off the ground and managed to begin sending soap to various countries in need. Fast forward three years, and the success of The Global Soap Project is evident.
Desmond Tutu, a South African Nobel Peace Prize winner, gave a nod of approval to Kayongo's work.
"So many times you think that the best feeling comes from helping poor people, the whole reason we do this. But the best feeling was getting recognition from him [Tutu], it felt like we received part of his Nobel Peace Prize," Kayongo said.
Last year, Kayongo received national recognition for his work  as a Top Ten Finalist in CNN's Hero's Awards. Through this publicity and the efforts of the Kayongo family and dedicated volunteers, The Global Soap Project has been able to send soap to Afghanistan, Haiti, Uganda, Kenya, Swaziland, Ghana, South Sudan, St. Lucia and Uzbekistan.
While publicity has helped  the organization immensely, there are still several ways to get involved and help out. The best way to do so is to volunteer at the warehouse in Norcross (for more information visit http://www.GlobalSoap.org). Get a group of friends together and spend a day doing meaningful work.
Another equally important way to help is to spread awareness. Create an event for Global Handwashing Day, Oct. 15, and let others know how important basic hygiene is to saving lives.
Or go the extra mile. Create an on-campus group to raise awareness and help get others involved in the Global Soap Project. Yet another way to get involved is to raise money for the Global Soap Project.
"Every bar of soap we make costs about 15 cents; so for about every $100 dollars that gets donated we can send about 100 bars of soap, which is amazing. You can't buy soap for that cheap in the US," Kayongo said.
Also, every time you stay at a hotel, ask them what they do with their soap, and educate them about the Global Soap Project. Kayongo envisions that every hotel in the US will wake up to the notion of recycling soap and hopes to make the Global Soap Project truly global by acquiring soap from hotels throughout the world and re-distributing it as needed.