[media-credit id=15 align="aligncenter" width="337″]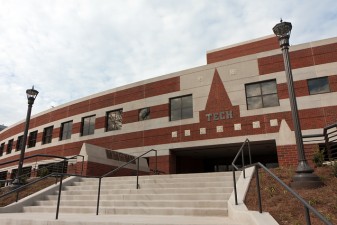 [/media-credit]There is no greater gift than the gift of giving, especially when the gifts are given to Tech by  former students. Alumni contributions make up a large part of the effort to help better both our school and our campus as a whole.
Be it Klaus's socket-ready tables or the colossal Bobby Dodd stadium, Tech needs money for development. To fulfill the high demands, Tech's fundraising campaign initially had a target of 1 billion dollars, but what's better than a billion dollars? Try 1.5 billion.
To assist Tech in achieving its fundraising target, alumni give back to Tech in three forms: gifts, pledges, or deferred pledges, a method in which the donor includes Tech in his or her will.
"Alumni provide 50 percent of all philanthropy that comes to Tech, which is atypically huge," said Barrett Carson, Vice President of Development.
Even the co-op program is a reality thanks to alumni generosity. A seven-figure endowment by Newton W. Thomas supports many of the engineering students who participate in the co-op program.
About 50,000 to 75,000 of Tech's donations are given to one in four members of the faculty and put towards a variety of different needs, ranging from helping faculty with their research efforts to providing lab equipment to high school students. With all this, the question that obviously arises in one's mind is: why give back?
The answer: rigor. The academic rigor at Tech prepares its graduates to go above and beyond in any work environment and other high performance situations throughout life.
Tech graduates are one of the most sought-after individuals by corporations and it this desirability that provides a rewarding income.
When a company like Facebook or Apple approaches a student nearing graduation, whom do they ultimately have to thank? None other than the very institution that gave them the opportunity to excel at that level.
The reasons alumni give back are plenty.
"They want to increase the size and quality of school, improve faculty," Carson said.
They also want to improve student experience by making the campus more beautiful by adding walkways, trees, and benches everywhere.
Even parents give back, out of the desire for their child to succeed at this institution.
"Corporations, after alumni, are the largest philanthropists at Tech and they simply want to invest in an extremely talented pool of individuals who can eventually serve them in the best possible way," Carson said.
It is important that we all don't just walk out of Tech and never look back at the institution that gave us a world-class education and led us to our dream job or career.
If we were all to do so, we would be denying many more wishing to be in our positions.
It is not just a privilege, but an honor to be a Tech alumnus and without the support of the alumni, there wouldn't be Grant Field, Bill Moore Success Center, Marcus Nanotechnology building, Zelnak Basketball Center, or many other pillars that make Tech a superior institution.
"Philanthropy makes a very big difference at Tech," Carson said. As future alumni, it is our responsibility to maintain that tradition of giving back.