[media-credit id=15 align="aligncenter" width="555″]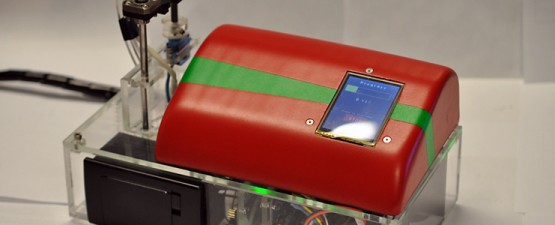 [/media-credit]Tech is a place that successfully educates students capable of combining creative pursuits with practical application to result in a variety of enhanced and new products to make the world a better place.
As an technological institution, the education received at Tech intends on facilitating the future innovators, entrepreneurs, and engineers as they move from the realm of student to the realm of the employed.
To supplement the education received from class and lab, events such as the Mechanical Engineering Expo for senior design projects are held to place students in a competitive setting similar to the one they'll encounter after graduation.
The "Occlusion Reader," a device that provides information regarding how a patient's blood is clotting for doctors to use in determining drug dosages, exemplifies such student innovation and was awarded first prize at the Fall 2011 ME Capstone Design Expo.
Developed by mechanical engineering seniors Pranav Gandhi, Siddharth Gurnani, Kelly Hefelfinger, Oscar Martinez and Nicholas Turturro, the device eliminates the potentially hazardous guesswork doctors face in determining the dosage of the drug Plavix for treatment of cardiovascular disease.
Plavix, the third most prescribed drug in the U.S. and the most common treatment for cardiovascular disease, can cause internal bleeding if taken in excess; too little fails to prevent heart attacks.  The device mimics actual heart conditions of an individual patient to deliver a personalized dosage, reducing or eliminating the risk of improper dosage.
The Expo, held in Tech's Clough Commons on Dec. 8, provided a framework within which ME senior design students gained experience working in teams to systematically design, build and report solutions, in the form of prototypes for a variety of problems submitted from industrial sponsors or their own imagination.
The challenge of presenting their models in a competitive environment forces students to consider real world applications of otherwise theoretical or esoteric components of their education.
In order to stand out from the designs of other teams, students learn the importance of cross-functional considerations, such as marketing via professional, persuasive promotions, or creating unique product attributes from an end-user perspective backwards. As creators such as Steve Jobs and Henry Ford illustrate, disruptive innovations predict what the customer or market needs before they fully realize it themselves.
The team, which called itself Heart-Thromb, took into account this end-user perspective when constructing their prototype and the result was a novel product with serious potential for practical application. The design of the device called for the team to take inspiration from a variety of sources – from biomedical sources to interface design.
While the ME seniors received a few "lucky breaks" in strokes of inspiration for their design, they faced several difficulties translating the idea into reality. For example, to ensure accurate test results a constant blood pressure is required; many iterations of trial-and-error were necessary to tweak design attributes to fit this need.
The hard work continued for the team until the day of the Expo, and with a cohesive, professional presentation and image, the 'Heart-Thrombers' received first place. Team members plan to continue working on the device and have hopes of seeing their design project becoming a reality.
Ultimately, the lesson to be gleaned from Heart-Thromb is that by following inspiration to ideas, engaging in entrepreneurial efforts, and putting in the essential hours of hard work it is possible to create products that can change the world for the better.