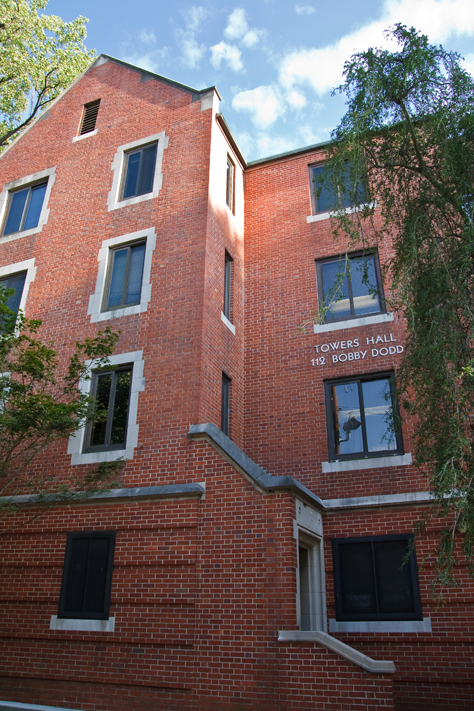 Halloween is here and with it come the traditions we've grown up loving: dressing up, trick or treating and bobbing for apples.
Most of these traditions come from superstition and Celtic origins, but what about Tech traditions? With all the Homecoming events, how is Tech keeping the Halloween spirit alive?
Though many All Hallow's Eve traditions have continued over the years, most Tech Halloween traditions have been maintained through the Residence Hall Association (RHA).
Other organizations such as the Freshmen Activities Board (FAB) and the Campus Recreation Center (CRC) have held events on campus in the past, but RHA has continued to annually host successful events such as the Towers Haunted House and the Harrison Trick or Treat.
Current RHA President and a fourth-year BA major, Mathias Rost, said these Halloween traditions continue because RHA makes it a main event. "The organizational structure and the popularity of the events has helped to keep RHA's Halloween tradition alive. We have a permanent space and we make sure to budget for these events. We make it a focus,"  Rost said.
As a joint project between RHA and the Towers Haunted House committee, RHA's internal programs committee and four Towers peer leaders are in charge of planning, staffing, and marketing the event.
As an event that began 15 years ago, its success can be measured through the donations it has received.
For their entrance fee RHA and the Towers student staff collects canned food items or two dollar donations which are then donated to the Atlanta Food Bank. Generally, RHA and Towers Residence Hall receive about four hundred food cans and nearly 250 dollars.
For the last four years, entrance has been limited to individuals who are 18 years of age and older and are Tech students, alumni or friends of students.
As another RHA-sponsored event, the Harrison Trick or Treat program is a free event where residents and Peer Leaders hand out candy on Halloween weekend. Started in 2006 by former Residence Hall Director Christina Hardcastle, the Harrison Trick or Treat program began in the Harrison and Cloudman dorms as a way to keep the Halloween tradition alive within the dorms.
The Harrison Trick or Treat takes place on Friday night and is open to all Tech students as well as kids in the Greater Atlanta area.
Due to its success, other residence halls have started their own traditions. Graduate and Family Housing has begun their own Trick or Treat on Friday afternoon. On West Campus, residence halls Folk and Caldwell will be also be handing out candy this Halloween weekend.
In addition, the Student Centers Program Council will be hosting the Fifth Street Fright Festival. Starting Thursday at 4:30 p.m., there will be Halloween activity booths and a showing of Final Destination 5.
RHA Advisor and Assistant Director for Staff and Community Development Alex Becking believes the success of the RHA sponsored Halloween events can be attributed to the students and their involvement.
"These events were always successful. They view it as an expectation of the organization to continue it," Becking said.
Though Tech has a limited number of Halloween traditions, the interest and success in these new events may lead to other residence halls and organizations creating their own traditions.