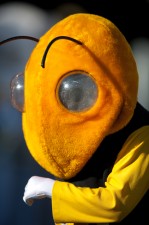 Arguably the most beloved member of the Tech community, aside from the Ramblin' Reck, is Tech's mascot Buzz.
Whether it's performing at football games or hanging around the Clough Commons, Buzz remains a fixture around campus to both students and outsiders alike.
Everyone from first-years and graduates to professors and administrators has sighted him at some point.
However, there are still many questions about Buzz which remain unanswered, piquing the curiosity of students and professors alike.
These questions range from the ordinary to the outlandish and everything in between.
Buzz is played by a number of students, none of whom are able to reveal their identity. According to Professor Doug Williams, Interim Chair of the School of Electrical and Computer Engineering, the identities of are revealed only at graduation.
"When a student who played Buzz graduates, they are allowed to wear the trademark black high top sneakers, thus alerting the crowd of their past involvement. The current Buzz will make a big deal about it, running up to him or her and pointing at the shoes," Williams said.
Tryouts for Buzz are held each spring in conjunction with cheerleading tryouts, as Buzz is technically a part of the cheerleading program.
Students who do not participate in cheerleading are still allowed to try out for the part and the only requirements are that the student be able to fit in the costume.
On game days Buzz maintains a tight schedule.
"Around two and a half hours before the game begins, festivities begin at Yellow Jacket Alley, where the team arrives and follows Buzz to the stadium. Afterwards, he roams campus visiting with students and alumni, as well as appearing at any scheduled events," Hylton said.
Forty-five minutes before the game he performs with the marching band, until five minutes till when he heads to the field.
During the course of the game Buzz wanders the stands, carrying Tech's spirit with him.
Buzz's favorite events to appear at are the home football games, as well as the pregame shows where he shows off for the crowd and body surfs.
According to Hylton, Buzz has never been dropped while crowd surfing at games.
"Tech fans are generally pretty good about taking care of their mascot and not dropping him," Hylton said.
When asked how he felt about being undefeated to date in the Capitol One Mascot Challenge, Buzz gave two thumbs up.
Tech's Buzz is not the only famous figure to bear the name, though.
"Buzz has yet to cross paths with the Buzz of Honey Nut Cheerio fame to date, but he is definitely interested in meeting the other Buzz at some point," Hylton said.
There are still some questions surrounding Buzz that remain unanswered. Does Buzz live in a dorm like the other students or a hive? How hot does the temperature get inside the costume? Beyond that, how do students go about actually putting the costume on?
In addition, no one knows if Buzz gets nervous when Tech plays a team with an avian mascot, whether his favorite artist is Sting and who the "Buzzette" is in his life.
Male or female students may portray Buzz if they can effectively convey his mannerisms.
For information on tryouts, students may visit www.ramblinwreck.com/spirit, and for booking information, Mindy Hylton, the Director of Marketing at the Athletic Association and Buzz's manager, may be contacted at [email protected].