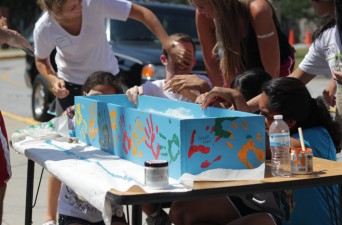 One hundred and fifty-three of Tech's newest students gathered early Saturday for a morning of volunteering with MOVE's Into the Streets, a one-day event of community service exclusively for freshmen.
Amongst the many stifled yawns the excitement was still palpable as the students chatted amongst themselves before being shuttled off to one of eleven different community service projects in the Atlanta area.
Gazi Rashid, a third-year BME, explained 'Into the Streets' goal. "It's very easy to look through JacketPages and find organizations you're interested in, but the goal of Into the Streets is to look for service opportunities in Atlanta and introduce [freshmen] to them," Rashid said.
Students can sign up to do everything from preparing food for the homeless at the Salvation Army to repairing old medical equipment for Medshare.
"We packed food for people who are terminally ill or can't get out of the house," said Shaaz Fareed, a first-year UEC who volunteered with Open Hand.
"It was gratifying and fun at the same time," Fareed said.
Not only did participation with Into the Streets provide an opportunity for students to give back to the community, but it was also a great way for students to make new friends.
"The children we volunteered with were very sweet and I even added one of them on Facebook," said Anjaly Poruthoor, a first-year BME.
Caity Murphy, a first-year CHBE said, "It's a great way to meet people and also get involved in the community around you."'
The event sparked a lot of interest in the students who participated and opened their eyes to the multitude of service opportunities in Atlanta. It even allowed these freshman to venture off campus.
Emily Dong, a Business Administration major who helped paint benches and plant flowers at Centennial Place Elementary School, said, "I want to go back and do the tutoring program at the elementary school."
"It was nice getting to know the Trees Atlanta people, and it really seems like an interesting organization. I got their schedule and I'm going to e-mail these people,"  Murphy said.
Kelsie Riemenschneider, a fourth-year BME who is the committee chair of the Techwood Tutorial Project of MOVE said, "We had a really high participation rate and were at maximum capacity for all of our events."
The most touching was the gratitude expressed by those on the receiving end of this help. Allison Shelton, principal of Centennial Place Elementary School, where students helped plant flowers, paint benches, and clean up classrooms was very thankful to the students.
"Tech students had a strong work ethic; they were extremely excited. They were a great group. They paid attention to detail, and they were problem solvers. It was really a pleasure working with them."
The event had a great turnout overall this year.
"The fact that we had 153 freshmen volunteer and wake up on a Saturday morning means the event was a huge success," Rashid said.