"We're gonna have a child? Wait, we've only kissed. I mean, I knew I was a good kisser, but 'wow'." When a young Cory Matthews uttered these words all those years ago, he had no way of knowing how true his words would turn out to be. In 2013, the story continues.
Although it has been almost thirteen years since Cory (Ben Savage), Topanga (Danielle Fishel), Shawn (Rider Strong), Eric (Will Friedle) and the gang left ABC sitcom TV in 2000 after seven wonderful years on air, a Boy Meets World sequel is currently in the works on the Disney Channel.
[media-credit name="ABC" align="aligncenter" width="711″]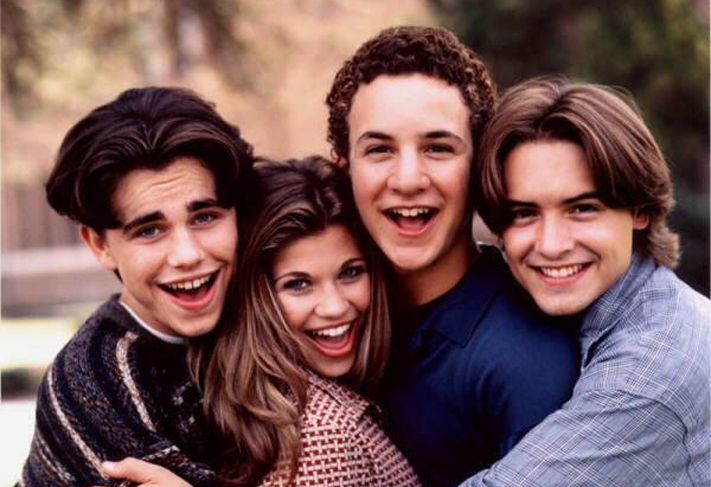 [/media-credit]
The appropriately titled spin-off Girl Meets World plans to follow Cory and Topanga's thirteen-year-old daughter, Riley, as she navigates the tumultuous and wacky world of the modern teenage generation.
Purist fans can breathe a sigh of relief as lead cast members Savage and Fishel have already agreed to reprise their loveable roles in the pilot episode. This is especially exciting and nostalgic news for children of the nineties who grew up watching the elementary school couple from their beginnings in Mr. Feeny's class all the way through college.
One of the other consistencies that this upcoming sequel show holds with the original series is that it will be created and executive-produced by Boy Meets World creator Michael Jacobs, which should placate fans that this next installment will most definitely be in good hands.
At the moment, the pilot episode of Girl Meets World is still in the early stages of development—so early, in fact, that Disney is still conducting a nationwide search to cast the character of Riley. Nonetheless, Savage and Fishel have already expressed their excitement for the continuation of the series.
On the subject of this future continuation, Savage recently tweeted, "I'm going to be a father…The Boy Meets World sequel is officially happening!"
Meanwhile, Fishel recently released a statement saying, "The 7 wonderful years we spent making BMW…were among the most warm, hilarious, insightful, educational years of my life and I wouldn't trade them for the world. Another thing I wouldn't trade for anything is the integrity and the heart with which BMW was made. I promise with the entirety of my heart that we will make GMW with the same honesty, innocence and intelligence that you learned to expect from BMW." Undoubtedly, fans around the world are hoping for nothing else.
Although it remains unknown whether other notable characters will reprise their prior roles—perhaps a repeat of Mr. Feeny peering over the backyard fence and teaching Riley the predictable lessons of growing up?—the show will undoubtedly retain "familiar faces, familiar themes and familiar messages" to its predecessor, according to Fishel.
Jacobs has not announced a premiere date as of yet, and fans are impatiently waiting for the news. Everyone hopes Riley Matthews provides as much laughter and insight as her parents.
Will this new show be a money-grabbing stunt that rides on the popularity and nostalgia of its predecessor? Or will it soar past the casualties of other popular 90s-show revivals? Everyone eagerly hopes for the latter. As much anticipation surrounds it, only time will tell if this world is ready to meet this girl.