Toby Keith is one of the most experienced veterans in the music industry: with fifteen studio albums, two Christmas albums and three compilation albums under his notoriously oversized country belt buckle, he recently returned to the studios to release his sixteenth studio album, Hope on the Rocks, on Tuesday (Oct. 30).
[media-credit name="Show Dog – Universal Music" align="aligncenter" width="711″]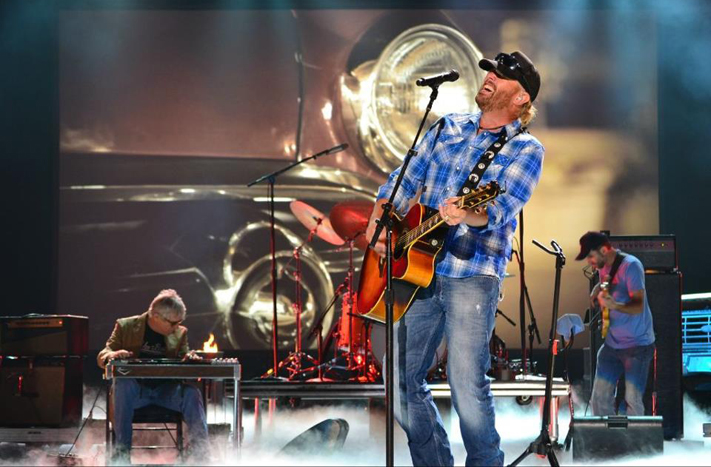 [/media-credit]
So, what could Toby Keith possibly produce that listeners haven't seen from him in his nearly twenty years of experience? Fans have heard both the Oklahoma-native's honky-tonk side and soulful side on past top hits such as "How Do You Like Me Now?!", "Beer For My Horses" and "As Good As I Once Was."
His critically-acclaimed 2011 album, Clancy's Tavern, featured number-one hits and an extremely positive reception with singles such as "Red Solo Cup", "Made in America" and "Beers Ago," which can still be heard blaring through college parties or on any country radio station nationwide. His laid-back, beer-loving vibe continues in his latest album; in fact, nearly every song's lyrics can relate back to either the idea of alcohol, bars, women, or all of the above.
However, this consistent theme takes on a variety of melodies; the title track "Hope on the Rocks" highlights the darker side of drinking and the brokenness that may accompany it.
However, other tunes, such as the previously-released summer chart-topper "I Like Girls That Drink Beer," showcases Keith's partying personality which has added to his fan base over the years. Other buoyant songs include "Haven't Had a Drink All Day", "The Size I Wear" and "Cold Beer Country".
Despite the abundance of upbeat, feel-good tunes, some of Keith's best moments shine through his slower songs, including "Haven't Seen the Last of You", "Missed You Just Right" and "You Ain't Alone".  Loneliness and heartbreak drip from the lyrics as Keith's powerful, deep voice delivers the imagery with perfect clarity and vibrato.
Keith wrote or co-wrote each of the ten tracks on the album, fully embracing his role as the fun-loving (albeit 51-year-old) entertainer. With the exception of the year of the millennium, Keith has released an album each and every year since 1993, an incredible feat for any artist.
Furthermore, as with this album, Keith typically takes a hands-on role in developing the products he puts out. In addition, he has dabbled in film acting, television, restaurant entrepreneurship and more.
Regardless of the star's obviously busy schedule, the tracks on Hope on the Rocks remain high-spirited yet by no means overdone.  While some of his previous albums have been notorious for a few popular climaxes and other fillers, this album seems completely cohesive and undoubtedly some of his best work.  After just recently touring some with Brantley Gilbert, Keith has yet to release news of any upcoming Hope on the Rocks Tour, although the quality of his latest releases make the necessity of a tour seemingly inevitable.