In 1849, dying lawyer Adam Ewing (Jim Sturgess, Across the Universe) is on a voyage from the Pacific Isle to San Francisco; in 1936, penniless musician Robert Frobisher (Ben Whishaw) finds work as an amanuensis to a famous composer. In 1975, journalist Luisa Rey (Halle Berry, Monster's Ball) discovers the cover-up of a faulty nuclear reactor; in 2012, publisher Timothy Cavendish (Jim Broadbent, Topsy-Turvy) unknowingly admits himself into a nursing home, and in the 22nd century fabricant Sonmi 451 (Bae Doona, Sympathy for Mr. Vengeance) is about to be executed for her rebellious crimes.In a post-apocalyptic future, a tribesman named Zachary (Tom Hanks, Forrest Gump) struggles to understand the world around him as everything he knows is brought into question.
[media-credit name="Cloud Atlas Production" align="aligncenter" width="741″]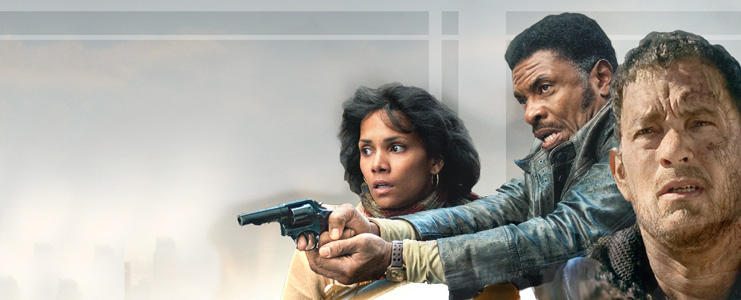 [/media-credit]Cloud Atlas tells the stories of six different people and how their actions ripple over time to affect the lives of each other. What makes this film so ambitious is not the stories themselves, but how they are presented: as a series of frame narratives being told to the main character of the next time line. These stories are shared through journals,  letters or by word of mouth.
While the task is daunting on paper, it is brilliantly executed on-screen. By juxtaposing the events of each arc, minute parallels are drawn between each of them. Certain characters explain that "there is a natural order to this world." This principle is the basis of conflict in the film, each story an abstraction of the others, and it is explored at every level, from race against race to tribe against tribe. These bonds born through adversity prove enough to change the world.
Cloud Atlas is a film about how people are not only related, but connected to each other in unforeseen and unimaginable ways. To demonstrate that, the body is portrayed as just a vessel and has no bearing on who we actually are. The actors play someone different for each time period. They are cast without regards to race, gender or age. The use of a birthmark is used to indicate that the main character of each arc.
Some may find this approach distracting, but that view is ignored in order to break down the same barriers that put it in place. In doing so, the actors themselves are showcased. A large amount of time is put into developing each character, so the audience forgets what they are watching is not real.
Special effects are more prominent in some arcs than others. Great care is taken to use these effects to stage and enhance a scene.  The film makes mention of the Cloud Atlas Sextet, the final composition of Robert Frobisher. The cloud refers to the precarious nature by which things seem to change, and the atlas chronicles the human condition.
As Luisa Rey explains, it is about "trying to understand why we keep making the same mistakes over and over."
Although it can be hard to follow at times, Cloud Atlas is nothing short of epic. Audience members can expect to be taken on a rollercoaster that explores what it means to be human—the memories we make, the emotions we feel and the legacy we leave behind. Perhaps Cloud Atlas is nothing but a drop in the ocean of life, but "what is any ocean but a multitude of drops?"