The packed audience at the Earl last Thursday night (Oct. 18) experienced a special treat as the quintet Milo Greene and openers Lucius played through hours of harmony and percussion-filled music sets. Headliners Milo Greene played their triumphant return concert to Atlanta, after a summer traveling across the United States on their premiere tour.
[media-credit name="Ayaka Furukawa" align="aligncenter" width="711″]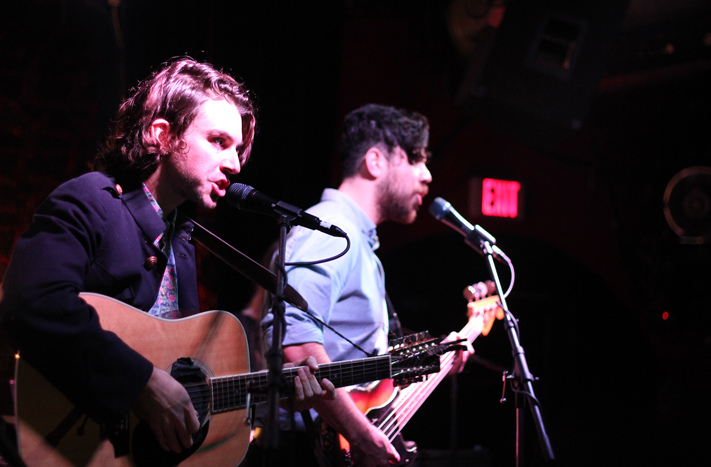 [/media-credit]
Perhaps best described as a blend of folk and rock, without being folk rock, Milo Greene defies a typical classification and has come to recent attention as they opened for bands like Grouplove and the Civil Wars in the past few years. In an interview with The Technique, band member Robbie Arnett attributed being "introduc[ed] to a new audience" and these older, better-based bands' "love and acceptance" as key factors to Milo Greene's current success.
Milo Greene's freshness is one of its greatest appeals, as they tear through their set list with relish. Anyone who has heard their eponymous debut album would be surprised at the shift from harmony and calm to the loudness and expanse of their live performance. Arnett describes this contrast as "very much on purpose…in order to offer two different experiences."
The energy and uniqueness do not take away from their intricate harmonies though – one of the key features of the album. Due to a "mutual understanding from the offset" none of the four vocalists pursue a lead role, instead they cohesively form a "three/four headed monster" that can be as thrilling as it is heartbreaking.
Their return to Atlanta had Milo Greene playing for a larger audience, this time more familiar with their sound and record. However, the band was somewhat weary from the road – and though they still put on a great show, the energy and atmosphere of their earlier visit was never reached.
Intricate songs like "1957"and a cover of Sufjan Steven's "Chicago" formed some of the better moments of the night. They too often paused for long jam sessions, and though they are very talented and capable instrumentalists, their real appeal is their voices.
A great surprise of the night  was the opening band, Lucius. Also boasting a roster of five, Lucius ran through a loud and impressive opening set. The two main female vocalists belted out clear, sometimes almost cacophonic harmonies, as the other three members backed them up on various instruments. Their best moments came when they eschewed guitars and basses all together in favor of all five members singing and banging on various percussive instruments.
With catchy and brash tunes like "Go Home" and "Genevieve" Lucius earned enough audience favor to play an encore – a rarity for openers – with their latest single "Turn It Around." Lucius showed more than enough talent for the whole night to be worthwhile. They played with the sheer confidence of a headliner, and  their matching outfits and risky, alternative playing style added to the experience.
Milo Greene was still the main feature of the night, as they have built a solid fan base in the short time of their existence. Though the band's first album was only released at the end of this past summer, the audience was already singing along with the verses and choruses alike and cheering out of recognition of the mysterious and unique opening chords of their most popular song "1957."
Definitely a band for those who are the cause of the recent popularity of The Civil Wars and Mumford  & Sons, Milo Greene is a worthwhile experience for anyone who claims to love music. With much raw talent and energy, even when not running at one-hundred percent, Milo Greene once again proved why their future is worth watching. If they keep up with their current values and talent they are sure to move on to bigger audiences and greater success.