Tuesday, October 9th marked the anniversary of music legend John Lennon's birthday, and the performance that night at the Tabernacle did this pioneer proud. Headlining the show was the alternative rock band Silversun Pickups with openers Atlas Genius and Cloud Nothings.
[media-credit name="Ally Stone" align="aligncenter" width="1024″]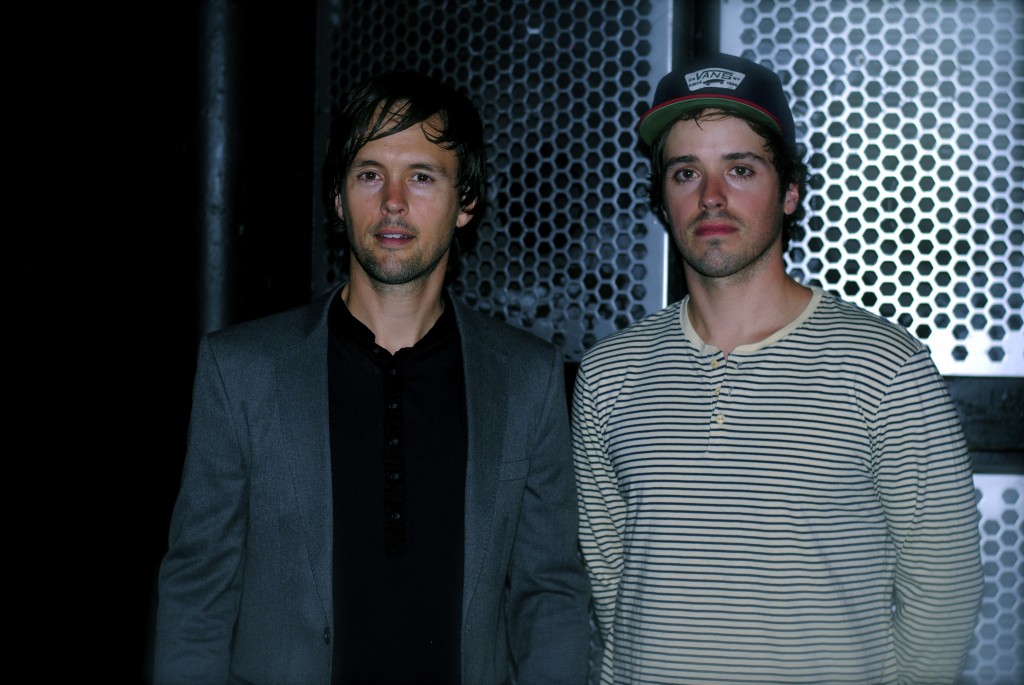 [/media-credit]
Originating from South Australia, Atlas Genius is quickly rising to fame with their debut EP Through the Glass. The trio of brothers was the first to open at 7 PM on Tuesday; still, their fresh talent predicts headlining opportunities in the near future. Their set was brief, about a half hour in duration, and they took a few songs to warm up to the chatty crowd. However, once the audience began to accept the band's variety of soft tones and electronic beats, Atlas Genius gained their attention and finished off the set with an acoustic version of the catchy radio song "Trojans."
The band as a whole is considered part of the indie rock genre with an element of electronic dance, yet as the lead singer and guitarist Keith Jeffery insists, "It really depends on the song though. Some are more acoustic, mellower than others. We have lots of variety. I don't like when people put bands in a pigeonhole. We aren't one of those bands; each song is its own journey." Evidence of variation in their quaint performance with acoustic solos and electronic upbeat tunes demonstrated their uniqueness as a band that has something different to offer audiences.
The band consists of Keith as lead vocalist and guitarist, brothers Michael on drums and Steven on bass and English keyboardist Darren Sell. As a band of brothers, the chemistry is organic. The group's genuine affection for creating music and playing together is marked by their relaxed style. During the performance, their Australian flair and charm came out when asked about their unique band name: "Basically we are really, really good with maps, and are very confident with our map-reading abilities. It does have more personal meaning to us, but we do not wish to divulge that."
Bands Death Cab for Cutie, The Beatles, Police, Beck and The Strokes have been major influences to Atlas Genius. Their biggest challenge as an up-and-coming band has not really been a struggle musically, but more so in finding their own voice. Jeffery noted, "With any new band, the biggest struggle is getting to a point where you are saying what you want to say and the music sounds the way you want it to sound, [finding] your voice; it takes a while to tap into your sound, but I feel we have come to that point."
Atlas Genius's first U.S. tour started August 11th 2012, and they continued their tour starting in September with the Silversun Pickups. When asked if they have found any major disparities between the indie music scene in North America and that in Australia, Jeffery countered, "I've gotten asked that a lot recently. I feel the Australian crowd really doesn't show as much appreciation; they are much more reserved there. The crowd really gets into [our shows] here, and they are very responsive. It is nice to hear them singing along as well."  The discrepancy between the indie styles of the Australian Atlas Genius and the American Silversun Pickups notably lay in their take on the strings. Atlas Genius overall has sharper guitar attitudes over the distorted guitar "90s revivalist" jams that the Silversun Pickups are known for.
Headliners Silversun Pickups did not disappoint the anxious crowd. The group was energetic throughout with the idiosyncratic voice of Brian Aubert on lead vocals and guitar, Christopher Guaniao going head crazy on drums, serene Joe Lester on keyboard and vibrant Sarah sitting in for pregnant Nikki Monninger on bass. Aubert did his familiar "hands in his pockets" routine with odd hand motions. Sarah, the sit-in bassist, was warmly welcomed by the crowd with her solo riffs and upbeat head bopping and dancing. Some recognizable songs from the album Swoon like "Panic Switch" and "Substitution" were performed along with more unfamiliar songs such as "Bloody Marry" and "Busy Bees" off their new album Neck of the Woods. The high intensity lighting complimented their performance throughout with the culmination of a pulsating rainbow explosion during the fan favorite "Lazy Eye." A foot stomping encore brought the group back onstage for another three songs before the show finally came to a close.
Hopefully in future performances on the Silversun Pickups tour, Atlas Genius will be able to open second, as they continue to gain stage presence and a fan base that appreciates this charming Australian trio. All in all, the Tuesday Tabernacle concert was yet another success, with each band demonstrating a distinctive journey in the broad indie genre.