In a world full of pop stars, synthesized voices and acoustic covers for every song imaginable, an instrument as random and unexpected as the accordion can be a nice refreshment for the ears. This must have been what Egyptian singer and songwriter Youssra El Hawary was thinking when she picked up her first accordion and decided to translate the problems and struggles of her native country into music. And so far, the combination of Hawary's playfully melodic voice and the light, uplifting notes emitted by the instrument she carries seems to work brilliantly.
[media-credit name="Youssra El Hawary" align="aligncenter" width="711″]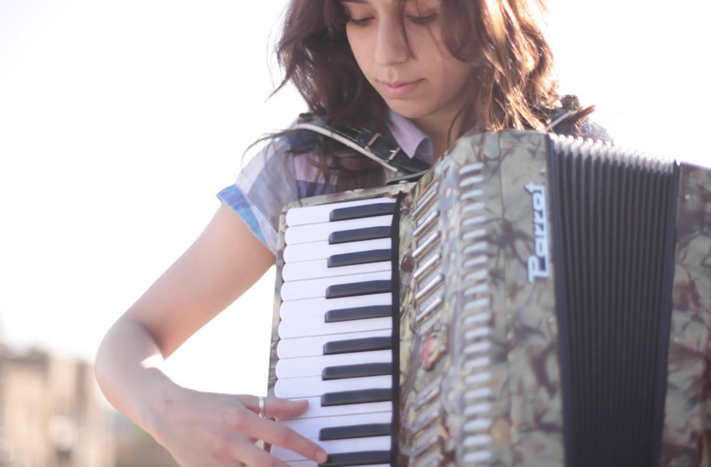 [/media-credit]
Born in Kuwait in 1983, Hawary has long been familiar with the entertainment industry. Her range of skills includes not only singing, but also composing, acting and miming, of all things. Despite having such a sturdy base within the performing arts, Hawary did not make it to the global musical scene until mid-2012, when, through YouTube and other online media outlets, she released the song "El Soor," which in English translates to "The Wall."
After hearing the lighthearted, mellow lyrics of "El Soor," any non-Arabic speakers might think that Hawary was singing about romance or springtime. They would be shocked to find out that the words coming out of Hawary's mouth actually tell the story of an old Egyptian man who, in a simple act of defiance against his repressive government, proceeds to urinate on one of the many walls that run throughout his city. While this image certainly puts a comedic spin on the song, Hawary intended for the single to have a more serious undertone.
Not only do her lyrics refer to the physical walls that exist throughout Egypt as a result of years of conflict, but also to the idea of barriers in general, focusing mainly on certain barriers against freedom imposed by the Egyptian government. Such is the message that Hawary seeks to express through her music: playfully innocent and endearing, yet never lacking some form of critique of  her surrounding society.
In an interview with the journalism network Middle East Voices, Hawary revealed that she was originally a piano player, and that she transitioned to the accordion on account of its portability, stating that she used to be jealous of how her fellow musician friends carried around popular instruments like the guitar wherever they went. Hawary has had several such interviews, including one on the American National Public Radio (NPR), that are slowly but surely guiding her to the global spotlight in terms of musical entertainment. One of the most notable achievements of the singer's career came this year when she won the Fair Play International Music Award for her work on "El Soor."
Perhaps the most important part of winning this particular award for Hawary is the chance to perform her music in Brazil later this year, therefore officially bringing her melodic voice and message of social change from her native Egypt to the western world.
Overall, the methods that Hawary employs to combat oppression could be a perfect example for the rest of the world to follow. Her music conveys that violence is not the only option. Rioting through the streets and waving protest signs may be effective ways of getting a message across, but they are not the only ways.
Sometimes a smile and a simple tune, combined with a strong opinion, are the perfect tools for getting issues heard, recognized and then hopefully corrected. And if the unorthodox, yet spirited, accordion happens to be the instrument that accompanies the message, then all the merrier.
Youssra El Hawary is just beginning her journey from a virtually unknown Egyptian musician to a warrior for social change, and with any luck, her debut single will not be the last the world hears of her.