This past Friday, Sept. 28,  the band California Wives took the stage at the Variety Playhouse. Followed by Diamond Rings and STARS, they served as an exceptional opening act.
[media-credit name="N. Reed Alexander" align="aligncenter" width="711″]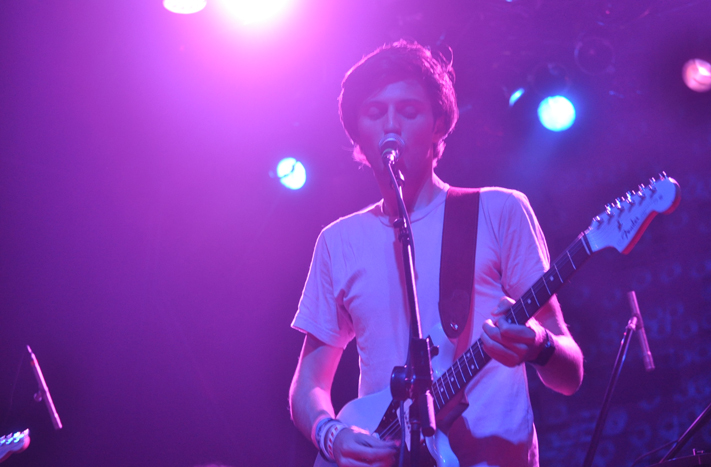 [/media-credit]
Originating in Chicago, this quartet has been together since 2009. The members include vocalist Dan Zim, drummer Joe O'Connor, guitarist Hans Miche (replaced this year by Graham Masell) and Jayson Kramer on back-up instrumentals. With two EP's already under their belt (No. 8 and Affair), they sought to create their first full-length album this year.
After signing with Vagrant Records, the band debuted their first album entitled Art History this past fall. Their 11-song disc is well worth a listen. Its jovial, upbeat drum patterns are paired with elongated guitar and piano chords, and all of the tracks are tied together with heavy synthesizer use.
The band as a whole is primarily categorized as New-Wave (a soft rock genre that was popular in the 1980's), with influences including The Smiths and New Order.
While listening to the overall symphonic and atmospheric sound, the band's roots in English alternative rock become very apparent. When asked to describe the sound of California Wives, drummer Joe O'Connor responded with "New wave…but a little more guitar heavy with synth rock. It's just really hard to classify." This lack of classification is what makes California Wives one of a kind.
While anxiously awaiting the start of the show on Friday, the venue was flooded with a tranquil New-Wave sound accompanied by poppy synth beats. The California Wives opened with "Tokyo," a song that starts off as tranquil but rapidly progresses into a danceable tune.
This was a common pattern in many of their songs. As the lights oscillated between vibrant colors, the crowd swayed to the band's melodic rhythm, and although the set list was fairly brief, excitement never left the audience. The diversity of their songs created an interesting effect within the venue; no matter the tempo, the audience was always fully immersed in a flood of music and lights.
The stage presence was that of a well-experienced band, a very commendable aspect for an act that is touring for the first time.
During their final song, "Purple," the stage aesthetics captivated the audience when the lighting changed fittingly to the same color as the song's name. Overall, California Wives was impressive not only in their musical talent but also in their ability to put on an entrancing show as such a fresh band.