On Wednesday, Sept. 19, piano-based singer/songwriter Brendan James brought his Nightlife Tour to Midtown, playing both old and new songs to a captivated but quaint crowd at Vinyl on West Peachtree.  After signing a record deal in 2005, Brendan completed two studio albums.  After a subsequent year-and-a-half hiatus from the music industry, Brendan released his third album Hope in Transition earlier this summer.
[media-credit id=179 align="aligncenter" width="711″]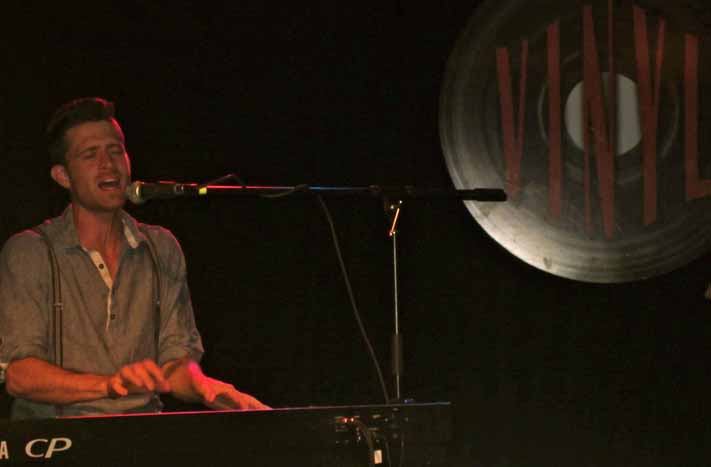 [/media-credit]
"My new album is a bit fresher, more upbeat…while tackling similar themes of love, hope and interconnectivity," James said.
Risa Binder, a whimsical blend of Brooklyn roots and Nashville influence, provided the first opening act. Currently working on her second EP, Risa has already won the Songwriters Hall of Fame's "New Writer Award."  Her most popular songs include "All the While" and "Paper Heart," though all of her relatable lyrics and incredible vocals are memorable and provide a glimpse into the potential of this emerging star.  Plus, Risa brought mini-cupcakes for the 100-or-so fans in attendance.
Next up was Brian Jarvis, another up-and-coming acoustic artist.  His first full-length album, Honestly, received numerous positive reviews, with his heartfelt stanzas and soothing tonality appealing to radio stations nationwide.  Whilst playing some of his better-known tunes such as "Beautifully Broken" and "On & On," Brian entertained the crowd with intermingled funny stories about life and love.
Finally, around 9 p.m., Brendan James took the stage and provided a wonderfully-entertaining show.  With Craig Meyer on the drums for half of the show—and Brendan solo on the piano for the remaining half—Brendan opened and closed the show with his more upbeat melodies, leaving room for the more intimate and acoustic tunes in the middle.  Playing his most widely purchased single "The Lucky Ones" near the opening of the show got the crowd engaged, and ending with—(appropriately)—"Nightlife," left the fans on a good note.
In between, Brendan took some requests and played on demand.
"I thought I got that right," Brendan laughed when he had to ask an audience member about the correct lyrics to one of his older tunes.  "Now that I have three albums, I'm starting to forget the words, and it's freaking me out!"
Another funny and personal moment with the crowd occurred when, in the midst of singing "Stupid for Your Love," Brendan interrupted his lyrics "I read 'em in one sitting / Like I did with War and Peace" to jokingly say, "Okay, I didn't read it in one sitting.  I read it in one month.  But I did read it!"
Finally, when only a few people chimed in to clap along with a song, Brendan laughed afterwards and showed the audience his sense of humor by muttering, "Thanks for the claps."
One of the most poignant moments of the show came when Brendan played "Hero's Song," which discusses the bravery and struggle of soldiers overseas.  The combination of Brendan's peaceful yet powerful voice, the intimate stage setting, and lyrics such as "No one will ever understand why / Thousands of beautiful, healthy, young soldiers must fall" left the fans silently contemplative and emotionally moved.
With a mix of funny conversations with fans offstage, expressive stories embedded in his lyrics and extensive whistling solos and piano runs, Brendan James put on a show that embodied his zest in returning to his music.
Brendan James next ventured his Nightlife Tour to South Carolina and later to Nashville.  When asked about plans for the future, Brendan said, "I answer this question as a stronger, calmer, more creatively centered person, who feels his best material may lie ahead, not behind."
Fans can only hope this is true in anticipation of a fourth album.