There are moments in our life when time stands still—when a life-changing event causes us to look at priorities anew. Sarah (Carolyn Cook) is a photojournalist, internationally acclaimed and renowned for her work; James (Robin Bloodworth) is a foreign correspondent, a writer as well as Sarah's partner both on and off the field. When Sarah is nearly killed in an explosion in Iraq, decisions must be made as everything about their way of life comes into question. Hospitalized and comatose for weeks after the incident, Sarah is finally brought back to her apartment, but with a leg injury that will require at least six months of rehabilitation. James takes time off from his usual work to care for Sarah, and instead works on a book about horror movies to keep himself busy.
[media-credit name="Horizon Theatre" align="aligncenter" width="711″]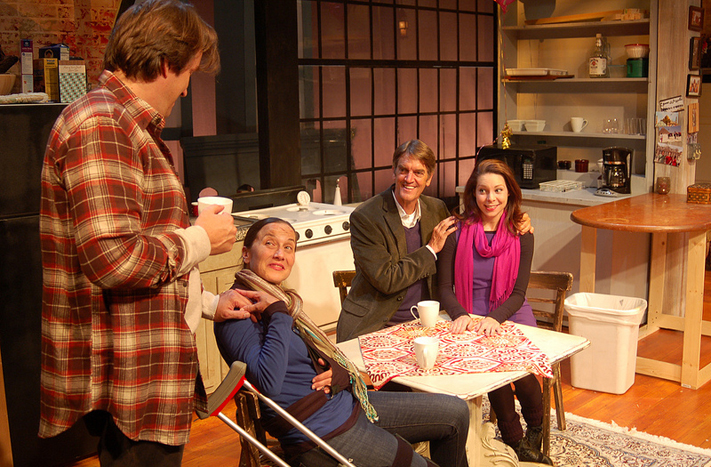 [/media-credit]
After returning home, the couple is visited by their close friend Richard (Chris Kayser) and his new, albeit young, girlfriend Mandy (Ann Marie Gideon). Immediately, she doesn't seem to fit the picture, and Sarah and James are, at first, reluctant to approve. But Richard explains how serious the relationship is with a humorous tirade about his last girlfriend and how much simpler things are with Mandy. Before he leaves, he asks to see Sarah's photos as the photography editor for the magazine they work for. In one of the play's most memorable scenes, Mandy stops on one photo in particular, asking Sarah how she could just stand there as these horrible atrocities happened, taking pictures instead of stepping in and helping.
This scene is early into the first act, and demonstrates a large part of the play's allure: its characters and their vulnerability. They are written as well as they are portrayed, and their conversations are as naked and raw as the emotions put into them. Cook plays a headstrong and stubborn Sarah, complimenting Bloodworth as the concerned but content James. James gradually realizes how much he can enjoy himself at home without the adrenaline fix of the frontline, replacing the horrors of his work with fictional ones on screen. On the other hand, Sarah's growing discontent with her time away from work is cleverly mirrored by her addiction to smoking. At first, she jokingly claims to have quit during her time unconscious, but she finally takes it up again when confronting James over what she considers a silly obsession. Yet Gideon's performance is the most crucial, as Mandy acts as a clear representation of innocence. At one point in the play, she asks why James and Sarah are so intent on being upset with the world, wishing that they, "would just be happy."
Time Stands Still is a play that explores the turmoil in our heart when the things that we love are suddenly brought into conflict. Is making a difference, no matter how small, worth our own happiness and well-being? Do we follow our passions, even when it means leaving our loved ones behind?
The show is about its characters, so there are no flashy lights or audio cues to distract from their story. While the play's events occur over the span of a year, all of it takes place from Sarah and James' living room. As one of Atlanta's more intimate spaces, audience members are even allowed to walk around the set and talk to the cast after each performance. Horizon Theatre fits a humble 175 and general admission means that seats are hard to come by; but the shows are certainly worth seeing.